From Fiji Times (22 August 2022)
Fatiaki focuses on health care
By Luke Nacei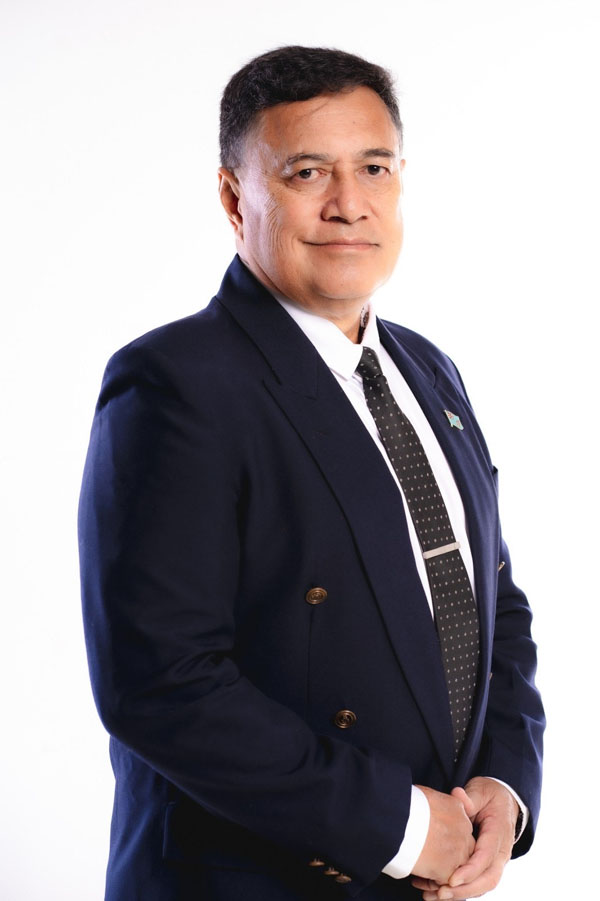 Dr. John Fatiaki. Picture Supplied

Renowned physician Dr John Fatiaki believes the Fijian people deserve a health system that provides them with the best possible care.

And that is one of the main reasons he will contest the 2022 General Election under the National Federation Party banner.

The former Rotuman senator has been heavily involved in issues involving his island home and believes he has the full support of his people going into the upcoming polls.

Being a doctor all his life, Dr Fatiaki has a fair understanding of the health system and the needs in Fiji.

He said those in the health system had a very challenging task in trying to deliver services and were trying to do their best with what they had.

"We will be blind and dishonest if we think our health system is good," he said.

"I know that when I worked in the hospital 35 to 40 years ago CWM (Colonial War Memorial Hospital) was a better place, Lautoka Hospital was brand new in 1970 and that is 40 years ago, and it has only gone downhill from there.

"I don't want to blame anybody but the reality is that we can't leave those things to be like that always, I think our younger people and those who live in Fiji deserve better."

Dr Faitaki said on a national level his contribution would be focused on re-looking and realigning the health system.

He said contesting under the NFP banner was a no-brainer.

"NFP historically has been there from the beginning, they have been continuously in the Opposition.

"This party really truly represents all ethnic groups and all religious groups."

Dr Fatiaki is a medical practitioner and managing director of the Epworth Clinic and the Epworth Diagnostic Centre in central Suva.

He is one of seven children, born and raised on the beautiful island of Rotuma before travelling to Fiji at the age of six for further education.

He attended the Marist schools in Suva and went on to complete his secondary education at Natabua High School in Lautoka.

After a year at the University of the South Pacific, Dr Faitaki travelled on a Commonwealth Scholarship and Fellowship Plan Award to study medicine in Australia and graduated as a doctor in 1984.

He served briefly in the government health services in Suva and Rotuma before establishing a private medical practice in central Suva in 1987 operating as the Epworth Clinic.

The clinic has been in continuous service for more than 30 years with an impeccable reputation for professionalism and excellence.

He is a keen educator and has been an honorary senior lecturer and external examiner at both medical schools in Fiji and was a Commissioner on the Fiji Higher Education Commission.

As a parent, Dr Fatiaki has been very actively involved in his children's education and has served as a past president of the St Anne's and St Joseph's Secondary School's Parents, Teachers and Friends Associations.

He is the former president of the Fiji College of General Practitioners and was honoured with a life membership of the Fiji Medical Association in 2016 and has served on many statutory, corporate and government boards throughout the years.

Residing alternately in Fiji and Rotuma, Dr Fatiaki has been very actively involved in Rotuman affairs over the past two decades as an advisor to the council of Rotuma.

He is a reserve army officer and a keen sporting shooter and is an inaugural and life member of the Fiji Shooting Association.

Trying his hand briefly at acting, he made his mark in Professor Vilsoni Hereniko's highly acclaimed movie The Land Has Eyes as the main villain, and his love for nature and the outdoors has made him an avid fisherman, camper and hiker.

Dr Fatiaki is a practising Roman Catholic, is married to Sineva and has eight adult children and eight grandchildren.

Dr Fatiaki believes that it is time for a change and that new ideas and people are needed.
---
From Radio New Zealand (22 August 2022)
Rotuma police receive human rights training
Police officers in Rotuma have received training to improve human rights standards on the island.
The training is specifically designed to talk to the needs of various issues that are faced on the Island to ensure that police officers are better equipped and informed to safeguard the rights of community members.
Director of Summary Prosecution, Fisi Tausia Nasario, said as a member of the police force and a son of Rotuma, he was proud to open the workshop and its focus on modernising policing techniques through a whole-of-community approach.
The first day of the interactive training concentrated on topics such as use of force, video recorded interviews, and the rights of suspects in detention.
The second day concentrated on strengthening knowledge towards how police communicate and handle all matters related to sexual and gender-based violence in Rotuma.
It is part of greater initiative of ensuring that all officers follow the same processes and procedures to protect the rights of all survivors.
---
Extracted From Fiji Times (21 August 2022)
Three women strong
By John Mitchell
Three friends and young inspirational women lawyers with a combined work experience of more than 30 years in the Office of the Director of Public Prosecutions (ODPP) officially opened their law firm on Friday.
SLS Legal partners (from left) Shirley Tivao , Lavenia Bogitini and Susan Serukai.
Picture: SUPPLIED/VISION PIX FIJI
Explain a bit about yourself
Shirley: I am from Motusa, Rotuma. I graduated from the University of the South Pacific (USP) in 2013, and was admitted to the bar in 2014. I started my career with Neel Shivam Lawyers in 2014 before joining the ODPP in 2015. I will be joining the Fiji National University (FNU) teaching Criminal Law and Evidence Law this year.
What was your family upbringing like?
Shirley: I was raised by my mother, Emily Tivao, who was an absolute hero. She has been my number one supporter and has always been there for me. Much of my success is attributed to her support, and guidance. Coming from humble beginnings from the small island of Rotuma we didn't have much but my mother ensured that I had all I needed to succeed and become the person I am today.
Why did you choose law as a career?
Shirley: My grandfather, Tivao Fapiano, told me from a young age that I would become a lawyer and the idea stuck. The real question was what kind of lawyer was I going to become? I always had an interest in criminal defence work, and when the opportunity arose to work in the ODPP, it was godsent. "The best criminal defence lawyers are former prosecutors" is what one famed local judge told me, and I agree. What made you decide to join the private sector after many years in government? We are thankful for the experiences that the ODPP provided, however, there are limitations within the area of law we practiced while in government service. We found ourselves wanting to branch out and expand our expertise within other areas of the law.
How do you relax or spend your spare time?
Shirley: When I'm not working I spend most of my time with my three beautiful children, Savea, Nonu, and Rosanna. I enjoy taking trips with my family around Fiji, although we are a small island nation there many adventures to enjoy be had within our beautiful waters. I also enjoy spending time with my husband Julian Yuen.
What does SLS have to offer . . ?
We are three young ambitious native women of Fiji with the heart to help and the patience to listen. We all have very different upbringings, perspectives, and experiences, which when combined create greater insight and understanding for our individual clients' needs. Although there is much to learn from the senior counsels and more seasoned law firms, our goal is to create a more personable, relatable, and compassionate experience when dealing with our firm.
Any special message to young women and girls?
Our message to all young people wanting to peruse their dreams is, your current situation doesn't decide your destiny. It's okay to feel tired, stressed, angry or sad but do not let that momentary emotion deter you from your dreams. It doesn't matter whether your parents are farmers or business owners your success depends on you. Nothing good ever comes easily. Continue to say your prayers, be grateful for the unanswered prayers, disappointments, and failures. They prepare you well for your best comebacks.
Any last words?
If you want to pursue a career in law, do so because you want to, or something drives you to. Enjoy the journey, it is a long and arduous road so it helps to make friends along the way, you never know because you might open a law firm with them.
---