From Fijitimes Online (Sunday, 28 January 2007)
Hupfeld wears fashion design career with ease
LOCAL designer Hupfeld Hoerder is one of those people who seem to have a career that's made to fit.
At 35 years old, Hupfeld has made a name for himself in the local fashion industry. His hand-painted designs are distinctly unique, eye catching and simply Hupfeld.
He has always had an artistic flair.
In school, while he often doodled in class during certain subjects, he would put all his energy into art classes.
"I would only concentrate in art and I remember during physics class, there were two of us who would just draw instead of listening.
"I attended Veiuto Primary and Suva Grammar Schools and after that I went to the Fiji Institute of Technology catering school where I am teaching now."
Apart from teaching at FIT, he also tutors at the University of the South Pacific and in between all that, still finds time to design and make outfits.
"It's a busy schedule, that's why I'm making the most of my holiday," he laughed.
Family
Hupfeld is the second of four children.
Used to people finding his name peculiar, he takes it all in his stride and often finds himself explaining the origins of his name.
The Hoerders are descendants of a German merchant who was based in Levuka. And funnily enough, Hupfeld was the surname of another German family who also lived here in the colonial era.
"Hupfeld like Hoerder is a German surname. My great grandfather was a merchant here and he operated from Levuka. He was the first German consul here," Hupfeld said.
"And Hupfeld was another family but they were related. They both worked at Vatukoula so when they left for Australia, they didn't want us to lose the names."
Because his family name was already Hoerder, he was thus named Hupfeld just so the names wouldn't be lost.
"So when people say to me, 'What a peculiar name', I just tell them, 'Well it's a surname'."
Hupfeld's mother is from Malhaha in Rotuma. Despite their German roots, the Hoerders consider themselves Rotumans first and foremost.
Last year, the Hoerders of Germany came to meet their Fiji relatives and this year, Hupfeld plans to reciprocate the visit.
Inspiration
Hupfeld gets his inspiration from anything and everything but especially from nature.
"Inspiration comes from anything, like nature. A lot of my work is based on natural things and if you look at my work without really being told that it is my work, you'll know straightaway that it's my work.
"When you say inspiration, that's interesting since I think that every artist has to be original because once you copy someone else's work then that's not your work.
"A lot of people who come to fashion shows would know immediately that an outfit is mine even before it is announced.
"Because the basis of my inspiration comes from vibrant colours and the underlying theme is the Pacific theme."
Hupfeld says just by looking at his designs, one can tell he is from the Pacific.
"Like whether I handprint them or sew things on them like magimagi or things from the trees or fibres from the bark of the tree or things like that."
These things, he says are symbolic of Pacific Island cultures.
To add some spice to his work, he merges symbols from different cultures to set his designs apart from others.
Designing
Hupfeld started designing when he was 20 years old. He has a steady list of clients and then there are those who come now and then, to have him design something special for them.
One of his most devoted clients, as mentioned last week, is the Interim Minister for Labour, Tourism and Environment, Bernadette Rounds-Ganilau.
Hupfeld says Mrs Rounds-Ganilau has been with him from the start and is always loyal--a fact largely due to their friendship and his peerless designs.
"I have been designing for the last 15 years now and have a steady list of clientele and it's better like that."
That means he knows exactly what his clients want.
"It's not what I want but you decide from what the market wants, I mean I want to expand and you have to have money to do that," he says.
Hupfeld is currently turning his attention to bridal wear away from the time-consuming task of making everyday clothes.
He operates from his home.
He says the time taken to complete an outfit depends on the design and the material.
"If it's a wedding dress which needs a lot of detailing, embroidery and all that, it can probably take me two to three weeks or over a month.
"And a normal evening dress can take me about three or four days because I come back from work and do it. I work over the weekends."
So, his normal schedule is going to school during the day (to teach of course) and when he gets back home, he works on orders from clients.
At times, these keep him up until the wee hours of the morning.
But Hupfeld doesn't let his all-nighters affect his work and his students don't even know that he may have stayed up the night before.
"I make sure that it doesn't affect my work. My parents see the light on in my room and they know that I'm working."
While that may seem like too much for some, Hupfeld has learnt to cope because he was pretty much doing the same thing while he was studying.
"Even my friends from Grammar used to ask how I coped but the thing is when I first started designing and entering those awards, I was running my dance group, going to school and doing this all at the same time."
Because he was able to cope then, he knew that he would be able to handle the load and has been doing so for a few years now.
"I always take it for granted that people would say that (admiration on how he coped) but the way I think of it is that it is really time management.
"However I wouldn't say that it was easy."
Like with most artists, inspiration comes to Hupfeld at the oddest of times like when he's asleep, relaxing or doing something.
To keep the idea fresh, he jots it down.
As a designer, he has to be brutally honest with some clients who want dresses straight out of a fashion magazine regardless of whether the style will suit them or not.
"The main thing is that some girls look at magazines and they think, 'Wow, Naomi Campbell looks nice there and I want to look like her'. But I have to be honest with them.
"I don't like to make them think that they will look like that because they will never look like that and so I'll just be straight up with them.
"That's an important aspect with customers, you just have to be straight up with them."
Likes and dislikes
Hupfeld teaches Hospitality Management at FIT and never fails to remind his students of the importance of marketing.
That basically means telling customers what suits them best.
"The thing is they have to trust your recommendation.
"I have about 20 steady clients but in between this, you have people coming in because I also send wedding dresses overseas.
"Some people send me the measurements and I send it (completed outfit) over and sometimes adjustments are done there (overseas) because I do it loosely."
He recently returned from a course in Singapore and found it a lovely place apart from being cheap and having affordable attractions for a designer.
Hupfeld doesn't have a particular fabric of preference but likes to work with a lot of plain materials.
He said while buying fabrics at a factory outlet, everyone else was looking at all the different colours whereas he went for the plain coloured material.
"On the basic colours, I handprint or I put things on. I'm like that kind of person I don't like to buy a fabric that has everything on it because I like creating these things and saying that's my design."
Apart from his designing, Hupfeld does some painting (as in pictures) but his greatest love at the moment is hand painting clothes.
"The time taken to complete an outfit depends on the designs on it, if it is very elaborate it may take three days because it has to dry over and we have to paint over that.
"I've done a lot of stuff for Bernadette (Rounds-Ganilau) and some of it I've forgotten and then when I see it, I think, 'Oh wow, I did that'."
Patience is a virtue
Designing, as Hupfeld tells it, takes quite a bit of patience.
"It can be stressful too sometimes but you can't hurry your work, especially if you are going to carry out something unique because people can always see a rushed job."
Apart from that, he has a lot of encouragement from his parents and close friends.
"Bernadette has always had that confidence in me and from then, I started making her clothes. She would wear them to the Miss South Pacific pageant, overseas conferences and would always promote my clothes overseas.
"And she was one person who really encouraged me a lot.
"I had a lot of very close school friends who believed in me but anything I do, she would say, 'Huppy I believe in you'.
"And when somebody says that, it really gives you the confidence. Even before a competition, if you don't win something but someone believes in you, it'll make you have the drive to excel."
Word of his designs has travelled far and wide and former school mates living overseas have often emailed him in admiration of his work and his status as a renowned designer.
"I'm still the same person, I'm very lucky that my parents and family support me very much in every way. And anything they see (for his designs), they get for me," he said.
Words of wisdom
Hupfeld is of the opinion that those with a talent for designing should be encouraged to pursue those talents.
He said some young designers had lost interest because they had been told that designing wouldn't put food on the table.
He said while the logic could be understood, those with such talents should be encouraged to expand on their talents.
Sometimes, he has been asked to talk to some of these young people because they lacked confidence and needed motivation.
"And because they lack the motivation, they're not encouraged to go to the edge.
"The other thing is that they need to believe in themselves because if you feel that you can do it than you can, nothing can stop you," he said.
In his particular field, Hupfeld is up against females and doesn't find that to be a hindrance.
Hupfeld says designing in Fiji is very conservative but he doesn't let that get to him.
And he has relied a lot on divine guidance saying that when you ask God for something, He will give it to you but only if you really deserve it.
"So anything, I want, I ask God and he gives it. It's like that and I even share my experiences with my students."
Awards
His designs have gained recognition and he has won accolades for them.
In 2005, he won the Fiji Development Bank awards, in addition to the Red Cross and Wella Fashion Designer Awards.
In total, he has won about 20 awards but for him, the highest achievement has been the FDB Awards.
"My highest achievement has been in terms of fashion designing, the FDB Awards because I didn't just win the premiere awards.
"You win the premiere and the business awards like the small business awards and I never knew because I was the last entrant.
"I won the handicraft award and accessories, and guess why they put me in the handicraft because I don't only do designing, I go into painting and accessories like that and I won the Young Entrepreneur because you have to be 35 years and under and the first year I was 34 years.
"The highlight would be the that award and then I won the South Pacific Games uniform and the uniform for the 2000 Sydney Olympics, so right from 2000, any team that has left the country they wear my designs on their uniforms."
Another highlight was winning the premiere Red Cross Fashion Awards.
"So I mean when I look at it, it's like an achievement because I've won major awards, I've won other ones but those are the major ones."
---
From Island Business (10 March 2009)
FASHION: FASHION GURU HEADS TO THE BIG APPLE
Hoerder's Bula Fiji goes on display
by Matelita Ragogo

Fiji, the Hupfeld Hoerder label to be exact, will be represented at the New York Fashion Week this year by an artist who intends to make good an invitation to participate at a fashion designers' mecca.
Hoerder has not allowed age to dictate his passion for designing garments that established his name.
A day job has been a necessary evil but it has never stopped him from putting out a few pieces for the catwalk once he's put his mind to participating.
Hoerder did more than impress at the November Islands of the World Fashion Week at the Bahamas; scoring himself a ticket to the New York Fashion Week.He says the Bahamas trip was well worth the costs incurred.
"It was a collection I put together with much thought. The Bahamas organisers were very particular and I made sure I met al the pre-requisites,"
"Most started asking 'where's Fiji?' when they met me after the show. It was an exhilarating experience because when you're out there-it is not as a Rotuman or part-European or whatever, it is about being from Fiji and the Pacific."
The Hupfeld Hoerder label first hit the catwalk outside Fiji when Hoerder took his label to the Noumea 2001 Pacific Arts Festival.
He applied online for a chance to get into the Bahamas show: having participated in previous fashion shows, years of experience, previous awards and regional exposure-all pre-requisites he met comfortably.
Entitled Bula Fiji, his collection reflected the tropics: earthy colours and different shades of the ocean; tangerine hinted at our sunsets and some of the pieces carried his trademark magimagi.
One particular piece is draped with mother pearls, cut in exact sizes and painstakingly hand-sewn on to the dress. The pearls and mother peals were given to him as a gift by a faithful client.
At Bahamas, Hoerder showcased 25 pieces encompassing casual resort wear, prêt-a-porter and haute couture. He complemented each piece with accessories - mainly his own creations.
He stamped his mark amongst the 32 countries as the lone representative from the Pacific. And with his pieces submitted to the cultural and eco-categories, Fiji was the only country that was a finalist in both categories.
"I intend to take my pieces and inevitably a piece of Fiji to New York and Los Angeles," he says.
He is determined that despite the costs, he is going to be there.
"We have so much to offer to these shows, but we have to make the standards.
"These international runways are not somewhere where one can simply slap things together and have a show.
"We can contribute with something new at these shows; we should not be intimidated by how differently we do things or use our accessories."
In all his pieces, Hoerder pays homage to mother earth and incorporates the old and the new.
Bahamas gave Hoerder the international stage he's been bidding his time for. It was a glamorous affair where interviews with big-time fashion magazines were the next best thing to having a buyer knocking on your door.
But to be invited to the 2009 New York Fashion Week is the icing on the cake that even Fiji as a country can benefit from, thanks to an academic who sleeps only for two hours a night for the love of fabric and accessories and what they are capable of becoming.
---
From Island Business (11 October 2011)
Hoerder's Creation Showcasing at the 2011 RWC

by Ariela Zibiah

The Hupfeld Hoerder creations, unless specifically commissioned, are normally sold as limited edition —and this simply means the pieces burn a sizeable hole in your pocket but usually it is worth it.

But Hupfeld Hoerder, the man however, is a completely different story. At his suburban Lami workshop, he works best with only a sulu and without a shirt.

Hoerder's simplicity belies the steely determination that has made him one of Fiji's best as far as original simple but elegant ensembles are concerned.

His disposition is not of someone who scored himself a ticket to the New York Fashion Week in 2009, after a successful outing at the World Fashion Week at the Bahamas, where his pieces were finalists for two separate categories.

This year, Hoerder has been invited by the New Zealand Prime Minister John Key to be part of Style Pasifika. He is one of 20 designers from nations playing at the Rugby World Cup participating at Style Pasifika—the mecca for designers in the region.
Exciting
For the rugby tournament, it is the signature event of the REAL New Zealand Festival, the official fringe festival to hopefully entertain the estimated 85,000 rugby fans expected to descend on Aotearoa.
Hoerder's invitation places him in a coterie no other Fijian has achieved. "I have never showcased in New Zealand and now this and for an event at the Rugby World Cup (RWC), it is exciting and humbling," Hoerder told FIJI BUSINESS.

Hoerder thought the initial phone call to gauge his interest was a hoax, so he insisted on something in writing. This he did get and straight from the Beehive in Wellington, the seat of power.
"New Zealand would be delighted to have you in this collection," Key's invitation letter read.
His storyboard for this piece of work speaks of his mixed heritage. He pays tribute to some extent to the great navigators of Oceania with the title of his piece: Vanua (Fijian), Hanua (Rotuman) and Fenua (largely Polynesian).

As part of the design requirement, the designers must be inspired by their nation; the RWC host nation; and rugby itself, its values and ethics. They must also use the New Zealand merino wool, an all-organic product, which can be a nightmare for designers when it comes to the cutting stages.
Hoerder's choice from the 15 samples is the knitted and stretch variety, intertwined with cotton, of the universal black colour. This is Hoerder's first introduction to heavy merino wool fabric, synonymous with winter wear. The designers must submit one garment but there are allowances for as many 'pieces' as possible.

Hoerder incorporated masi, magimagi and shells into his garment "because I think it is very much about our identity". The use of coconut fibre reminds one of the national team's coconut tree logo. In keeping with his eco themes, Hoerder draws in freehand his trademark designs in bronze with a hint of gold.
"This is a special moment. No matter what stage of the tournament the national team reaches, Fiji would have been represented on both stages," he says quietly.

"There are two underlying elements in my garment—the preservation of our heritage and culture and climate change. I want it to reflect who we are in Fiji."

Hoerder's first international experience was at the 2001 Pacific Festival of Arts in Noumea, New Caledonia.

"I don't consciously set out to be different than the last time, I just get out of the box and create something I know is unique but still has elements of our daily lives here in Fiji," the hospitality and business administration lecturer at the University of the South Pacific said.

Hoerder was accepted by the Melbourne Institute of Technology for a formal qualification in fashion designing in 2000, but the coup cost him his AusAID scholarship.

So what makes him special? He does not compare his works with others. He challenges himself and he is his own worst critic. And yes, he just might be a perfectionist, as he reluctantly admitted.
---
From Fijitimes Online (20 October 2012)
Top designer eyes couture and wedding markets

by Torika Tokalau

FIJI Fashion Week's 2012 designer of the year Hupfield Hoerder is looking at branching out into couture and wedding designing.
The 41-year-old Fijian designer who has ties to Rotuma and Germany showcased his latest Pacific wear collection on Thursday night in the Echoes of the Pacific category which featured 44 pieces he made within a month.
"My passion is really with couture fashion, that and wedding — I want to target the Fiji wedding market. I have done a lot of weddings in the past but I want to officially start collections for it," he said.
Mr Hoerder began designing 20 years ago while undertaking undergrad studies in economics, designing simple shift dresses.
Everything he learnt in designing, he learnt on his own, with the strong support of his family.
Surprisingly enough, his day job is lecturing in tourism and hospitality at the University of the South Pacific.
With such a hectic schedule at the university, he says he will always have time to design and never give up one for the other.
"Designing is where I unwind.
"I love lecturing but I also love designing and even though they're two totally different fields, they balance each other out and I like that.
"I certainly won't be giving either up in the future, I love what I do."
He dedicated his award to FFW director Ellen Whippy-Knight for her perseverance in maintaining and developing the fashion industry in Fiji.
But there was one other person he wished he could share the achievement with.
"I lost my older brother Wilson Hoerder last year.
"Wilson was so supportive of me.
"He was so proud of me and was always boasting to people about my achievements.
"Wilson handled the marketing side of things for my label and I really miss him.
"This award is especially dedicated to him."
Mr Hoerder last took part in the FFW in 2010.
---
From Fijitimes Online (1 December 2015)
Hoerder's journey into fashion limelight
By Shayal Devi
LOCAL designer Hupfield Hoerder's journey as one of the most recognised individuals in the fashion industry has not been an easy one.
Mr Hoerder, of Rotuman and German descent, was born in a humble home with three siblings while his parents worked as a civil servant and salesman.
His talent for fashion designing was unearthed during his second year at the University of the South Pacific, where he was pursuing a degree in economics.
"I did very simple dresses at the time," the 44-year-old said.
It wasn't long before he got the opportunity to pursue a course in fashion designing in Australia, compliments of a scholarship.
However, this fell through after the 2000 coup. Still, he failed to let the turn of events deter him as he pursued another field — tourism and hospitality studies. He started his designing career not long after. For Mr Hoerder, the Fijian fashion industry has become more visible in the past 15 years.
"Events like the Fiji Fashion Week and Style Fiji have played a major role in this. From my perspective, stakeholders need to build their confidence in designers," he said.
"We need an institution, whether through USP or the Fiji National University to formalise fashion education because we didn't have it."
He says Government can also contribute to growing the industry by providing subsidies on scholarships for fashion designing.
"It is a lucrative industry. Now, the fashion council of Fiji is building up and they play a major role in pushing designers and empowering them," Mr Hoerder said.
"Young designers need support from stakeholders. For me, this was a hobby which became my profession."
According to Mr Hoerder, the Fijian fashion industry was still at the infant stages. He said more needed to be done to advance the sector to grow and mature.
"The fashion industry is a wide one and it's not just about clothes but also about photography, marketing and make-up artistes," he said.
"I know that young people look at fashion as very extravagant. The reality is that you have to pay in the hours and it takes a lot of sweat, blood and tears. Behind the scenes, there is a lot more hard work involved than just the glamour."
Mr Hoerder said the industry had the potential to grow even further in the coming years.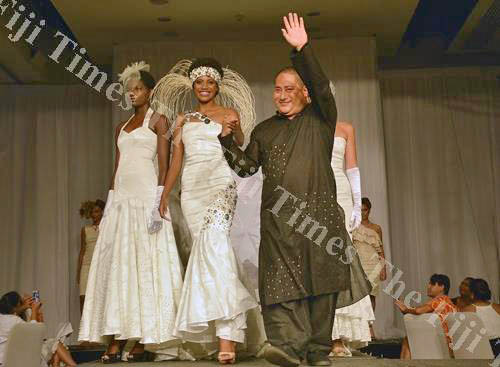 Hupfield Hoerder and a model with one of his designs during the Style Fiji Fashion Show at Sofitel Fiji Resort & Spa Denarau, Nadi. Picture: Baljeet Singh
---
From Fijitimes Online (8 September 2016)
Hoerder promotes Pacific culture

By Charlene Lanyon

HUPFELD Evers Hoerder has been in the fashion industry for about 25 years and is known for his exclusive designs in casual resort wear and Pacific Haute Couture.
The Rotuman-German fashion designer, who will also feature at the Fiji Fashion Week show this week, said his designs integrated the old and the new and stimulated the passion for someone to be bold enough to stand out in a crowd.
"Hupfeld Hoerder designs also promote a strong sense of Pacific cultural theme and this is to promote conserving one's identity and heritage, which is so important to us in Fiji and the Pacific," he said.
"I utilise and incorporate authentic fibres and other natural resources from the Pacific into the creation and development of my designs and use vibrant colours to signify various themes, the focus is to promote an eco-friendly or green environment for future generations." He is also in the process of designing Fiji's national costume for Miss World Fiji 2016.
---
From Fijitimes Online (17 July 2017)
Me and My Designs
By Maraia Vula
Nothing has stopped Hupfeld Hoerder from doing what he loves best: designing for 20 years now.
Hupfeld, as he is known, is of Rotuman-German origin and was born and raised here in Fiji.
He began designing simple shift dresses to casual resort wear while pursuing undergraduate studies at the University of the South Pacific.
He recalls during an interview: "Slowly the demand grew for more formal gowns and bridal wear incorporating authentic fiber with a westernised design and this eventually lead into haute couture category."
Most of his garments are exclusive designs and on made-to-measure mode.
"I have also moved into textile designs, where I have created fabric designs for our Fiji national athletes to the Olympic and Commonwealth games, with some other major organisations in Fiji.
"I have also won national fashion and business awards that has immensely put me on an advantage position.
"In 2008, I was the only designer in the Pacific that was represented at the first Is­lands of the World Fashion Week and was a finalist for both major categories in Cultural Wear and Eco-Wear. And represented Fiji at Style Pasifika Fashion Show in New Zealand as part of the "Real New Zealand Festival and the Rugby World Cup in October 2011.
"Currently, I have started manufacturing a limited edition line targeting the affluent market and have started distributing them at selective outlets in Fiji.
"Eventually, I would like to have the opportunity to tap into the international market.
"My accolades of awards both national and international and participation in international fashion shows have given me many opportunities and exposure.
"I now have established a niche market with Fijians and other Pacific Islanders living overseas where I have sent exclusive garments and hand painted fabrics as far as the US, Brussels, Australia, New Zealand, Korea, Germany and many more."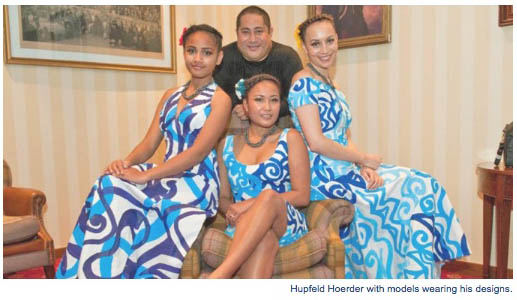 11 QUESTIONS WITH HUPFELD HOERDER 
How did you know you wanted to be a fashion designer?
I actually wanted to become and architect when I was in high school, but I was always very arty in school. However, during my second year at University whilst completing my undergraduate studies in economics I started to have this passion for fashion and design. So it started with simple shift dresses and it took off from there.
What's excites you about the fashion industry?
The fashion industry like any other industry is always evolving.
One must be aware of the needs and wants of their customers or their niche market and create and develop a product to meet these needs and wants.
Fashion trends are also like a cycle with additions or inspirations from different eras.
It is exciting because a designer's challenge is to create a market base or niche market and to sustain that market you have to be creative and understand the psychology of your market so that you are able to create products to suit them.
What distinguishes your design from the other designers?
It is exciting because a designer's challenge is to create a market base or niche market and to sustain that market you have to be creative and understand the psychology of your market so that you are able to create products to suit them.
How do you produce and distributeyour designs?
I outsource to Intimate Apparel and the rest of the orders I do from my workshop, my designs are distributed online and also at Pearl Traders and Outfitters an exclusive boutique owned and managed by someone very close to me – Bernadette Rounds Ganilau.
Do you scope out the competition?
Competition is good for anyone running a business, however I design and work with what I am inspired by and believe what makes someone looks and feels good, not necessarily following a trend.
What do you enjoy most and the least about your job?
I enjoy everything about it (designing).
Once you have the product, how do you get the word out?
Social media plays a vital role in terms of marketing and promoting your product online. But mostly by word of mouth or social media.
What store would you love to have your clothes in?
Not any in particular as I would rather have an online boutique for now because it is more manageable.
How do you think the fashion industry in Fiji can improve? 
Government and financial institutions need to provide more incentives and grants for small aspiring designers to assist them building their brand.
The provision for more workshops and forum discussions should be organised so that designers, bloggers, makeup artists, photographers etc can share their views and opinions on the latest issues.
So that we are aware of opportunities and keeping abreast with the latest trends, and issues that is affecting the industry.
What are you future plans?
Expand my online boutique and diversify into other products like accessories
Go into training and development where I would like to be a trainer in fashion and design and teach the less fortunate in rural and less developed countries to generate skills so that they can become young aspiring entre­preneurs to be self-sufficient.
Contribute more to charity and help young teenagers, school drop outs and adolescence to develop basic soft skills so that they could find jobs and start their own small business.
What advice can you give to upcoming designers?
Nothing happens overnight, you just need to work hard, commit and persevere and be passionate with what you do and you will definitely succeed.
Winning awards is not everything. What is important is that your product is viable and you are happy with your work.
---