From Vamarasi Pesamino in Lautoka (29 September 1997)
Va was in Hawai'i for her brother Vilsoni Hereniko's wedding early in August (see Archived News for August). On her way back to Fiji she stopped in Samoa to try and locate her sister, Mere, whom the family had not heard from for many years. This is her story:
Vamarasi Pensamino
On 12th August 1997, I left Hawaii at 5 a.m., and came to Western Samoa to look for my eldest sister. She is the third eldest in a family of 11 children, 8 boys & 3 girls. When I came to Faleolo Airport, I took a taxi to the Catholic Mission Sisters of Mercy Convent, because I am a Catholic. I met sisters there, and had morning tea with them at 10 a.m. and I told them about my sister Mere. The Sisters of Mercy were so kind, so helpful and so caring for me. I left my suitcase there, and went to town (Apia) to look for her. At 2.30 p.m., I went to the Samoa Broadcasting Commission's Office to pay for a news announcement in both Samoan & English.
This is the message I had broadcast: "Mary Manogi Pereira (her Samoan name), Rotuman name Mere Jao Hereniko--your sister Vamarasi Hereniko from Rotuma/Fiji is in Samoa now; she has been looking for you. Please contact this number as soon as possible: 42551--Sisters of Mercy Convent, Lalomauga Parish." I paid $23.00 for announcements over two days, first in the afternoon on that same day, the 12th, and the morning news on 13th August.
From there, I went to the market, the bus stand, and a few other places, then went back to the convent at 4 p.m. At about 5 in the afternoon, Joseph Pereira, my sister's eldest son, telephoned and asked to talk to me. He heard the first announcement on the Samoan News. After hearing the announcement, Joseph went to a friend's house, which was quite far away, to make the call. He lives in Tapatapao, where he has a farm. His place is very far from town and no buses go there. The bus stops on the main, tarsealed road and from there people have to walk for almost two hours to reach their homes. I was so happy to talk to him and looked forward to meeting him, so I told him to come as soon as possible by taxi, and not to wait until tomorrow. He arrived at the convent about 6 p.m. and I happily paid his $20 taxi fare. I couldn't hold back my tears when I met him because I was so full of joy & happiness. Joseph couldn't speak English properly (only Samoan), so the sisters translated for us. I asked him many questions about his mum and the family. After that, the convent sisters took us to Joseph's sister's home at Moataa, near Apia town. I thanked and praised the Good Lord for helping me find my sister and her children.
When I came to Moataa with Joseph, it was a surprise. They did not know anything, because they had not listened to the news. Joseph told them the story, and they were very happy, and eager to ring their mother in Pago Pago.
My sister Mere left Rotuma in 1954, when she was 15 years old. Her godparents, Jao Olsen & Teresia (from Faguta, Rotuma), brought her to Fiji. She stayed with them in Samabula. While she was working in Suva she met Manogi Pereira, a Samoan man whom she married in 1960. In 1962 she left Fiji and went to Samoa with her husband. At that time, they had two children, Joseph (a boy) and Jennifer (a girl). Now, she has eight children, five boys and three girls. She named her boys after her kainaga: Vilsoni (her brother), Fapiano (our Dad's brother), Firipo (an uncle), Selina (after Dad's sister in Motusa), and Maria (after an aunty in Kalvakta); her grandchildren, Jone & Varea, also have Rotuman names. All her children married, except her youngest son, Fapiano, who is 23 years old now. Her husband died in 1986, so she brought her children up while working on their farm in Tapatapao. She lost her mother tongue, because she did not speak Rotuman for many years, but she can understand all the little words, e.g. lem la 'ate, tak la mos, la' la kakau, raksa', lelei. She said that she can understand, but it's hard for her to say things in Rotuman. My sister worked very hard on the farm to get money to send her children to school, to pay school fees & other school expenses. Her older boys had to leave school to help her with the farm. The three oldest boys married and now have their own farms. The three girls married, also. Only the two young boys reached secondary level--Form 7--& they got jobs in town. These are the only two that can speak in English properly.
I went to Pago Pago (American Samoa) on the 14th August to visit my sister, who was sick with the flu. Her daughter Maria married and moved to Pago because her husband is working there. I was very happy to meet my sister because when she left Rotuma I was only 9 years old. From the 14th to the 28th I was in Pago. While there I met Matili (daugter of G/Kona' and Faga, from Savlei) & her husband Jeff Chun. They took me home for two days, and came to the airport to see me and my sister off. Mere and I went back to Samoa for few days before returning to Fiji on the 4th September.
In Samoa, all Mere's children made a Family Reunion (Samoan way) in Tapatapao, because Joseph is the eldest son. On Sunday morning, the 31st August, we all went to church. Only a few boys stayed home to prepare the lovo. The koua was made of: a big puaka, palusamu, tela'a (yams, breadfruit & bananas). There was plenty food at lunch: corned beef, chop suey (Samoan way), prawns from the river, the food from the koua, and young green coconuts for drinking. On the farm there is no electricity, no water (only the river beside the farm), and no transport (you have to walk to the main road). But I liked the farm (bush), because there is plenty of food to eat, plenty fruits, and it's a very quiet place. I was very happy to see the farms of the three boys. It made me think of my dad's plantations in Rotuma when we were small. They have pigs and chickens, too. They plant plenty vegetables like cabbage, bele, tomatoes, cauliflower, spring onion, beans, carrots, etc. They all work hard like our dad, Hereniko.
We arrived in Fiji on 4th September. On the 7th Mere went to meet brother John & family in Vatukoula, and on the 13th she went to Suva, then to Lomaivauna to meet brother Mua & family. She came to my home in Lautoka on the 25th. On the 27th September, Meree went to Rotuma by Sunflower Airlines. She rang me on Sunday, and told me that the family made a mamasa for her on the day she arrived. She was very happy to meet mum, brother Fatiaki and sister Lie, and all the relatives there. She was happy to be back home in Rotuma after 43 years away.
She will pick up the Rotuman language very fast, because nobody will speak to her in English. I am happy, too, that she can help sister Lie to look after our mother, who is very old, and stays in bed now. I thank the Lord for our reunion with our sister Mere after so many, many years: 1954 to 1997!
---
Posted by Mark Fesaitu Vaurasi on the Message Board (27 September 1997)
The Wellington Rotuman Group enjoyed a weekend meeting over in Masterton at Emi and Chris Scott's "marae" from Friday 29 to Saturday 30 August. We had the usual Rotuman food, taumaka (practice) for our Rotuman Tour in December 1998, followed by a few drinks and fara.
Nice to see Tivaknoa Viki (Kautane Henderson's mother) from Vatukoula who is here on holiday.
On Saturday 28 September the Wellington Group enjoyed their monthly weekend meeting at our place in Upper Hutt, Wellington. Again we had the usual Rotuman food, a few wines/beers, and a singalong fara.
Future Group activities: 24- 27 October--we have our Annual NZ Rotuman Fellowship meeting, which the Wellington Group will host in Turangi. Some of the activities we have planned for the weekend include a visit to Mount Ruapehu (hopefully for some skiing), visit to the hot pools at Tekanu, disco, taumaka for the NZ Rotuman Tour to Rotuma in December 1998, and as always to catchup and reinforce our Rotumanness.
22 November--our group will provide entertainment at Lisa Kitione's (daughter of Fonmanu and Keri Kitione) 21st Birthday atNapier. Christmas/New Year celebrations--venue and activities are yet to be finalised.
---
From Antoine N'Yeurt in Suva (29 September 1997)
I have just come across a new report from the Fiji Mineral Resources Department on the Rotuma water supply, which I thought you would be interested in. The author is Prem B. Kumar, and it is entitled "The status of the groundwater production boreholes on Rotuma" (Note BP44/25, Mineral Resources Department, July 1997. 6 pages + map).
The main conclusions are that the level of salt in the water supply has been gradually increasing over the past 12 years, owing to over-pumping leading to saline infiltration. The amount of bacteria (E coli count) is also very high at Ahau and Oinafa (>100/50ml), due to "gross contamination" of the reservoirs which are not cleaned regularly. The Sumi intake pipes are reportedly corroded and in need of replacement. It is recommended that the water demand for Rotuma be re-assessed, and daily pumping duration decreased (the boreholes were initially designed for 10-18 hours pumping per day, but are currently pumped 24 hours except during maintenance!).
Hopefully, implementation of these recommendations will lead to less instances of 'salty' tasting tap water and bacterial contamination. Interestingly, Sumi seems to have the best quality water supply, and Ahau the worst. . .
In other news, a friend of ours from Oinafa said that the beach erosion east of the wharf has reached a stage where the waves reach right up to the road, and all the coconut trees have been washed out! They are concerned that the village may be cut in half by the water if this continues. Does anyone reading this have an idea on how to contain this erosion? I recall that the US Corps of Engineers faced a similar problem on Waikiki beach in Hawaii in the past, and they built those parallel breakwaters.
---
From Elisapeti Inia in Savlei, Rotuma (19 September 1997)
There have been a number of activities and developments in Savlei over the past couple of months, including:
(a) Our village meeting now has a chairman (Gagaj Irao), a Secretary (Aliti Aisea), and a Treasurer (E.K. Inia).
(b) Our first proper meeting was at the end of June and it was proposed that we start collecting funds for the village. The first lot was on July 31st. Each family contributed $5, for a total of $75. Again in August, all families contributed except one; therefore we collected only $70.
(c) The month of September we have a workathon from 15th to 30th to clean up the village of Savlei. The aims are: to fight against flies & mosquitoes by burning the coconut shells and burying empty tins and broken bottles, plastic containers, etc. and to repair the community water tank. A motion from the women's workshop to Rotuma Council that every Wednesday is a cleaning up day to pick up empty tins, broken bottles, put them by the roadside for the PWD truck to cart them to 'puag jao' by the roadside to fill them up and top by the white sand from the beach. This motion passed. We hope to keep our beaches clean and safe for children to play and swim.
(d) In Savlei we have several committees to look after various activities, including: gardening for men, vegetable gardens for women, arts and crafts, sports, and finances. In July men and women went to see the men's gardens in the bush as well as the women's sa'aga plantations and vegetable gardens. Now we know which families have more than enough food to eat and which don't. The next inspection of gardens will be during the November holiday (Prince Charles). Sunday nights for First Aid and native custom, Wednesday evenings for choir practices (Catholics & Methodists), Friday evening for Catholic Church fund raising, and so on.
Elisapeti also wrote that she composed a song for the men to sing whenever they gather around the kava bowl. It is for the men's fellowship. The theme is Isaac, the son of Abraham, and is sung to the tune of "The Water is Wide," an Irish-American folk song. The words are as follows:
1. 'Eprahama ma Sera 'es
Le' faat 'on asa 'Aisäke
Hö' 'oaf pau se 'on ö'rua
'Aitu hilia fanau ta.

5. '"Aite'te'e rah ta te'is
Ka tei lämet se rau'ifi?"
"'Aitu täe la osimea
Ta lämet la susunua."

2. La rau'ifit se Gagaja
'E hanuet moraia
Tapen ma 'on 'Eprahama
'Aitu as 'e pa 'inea.

6. Osia altar ta la fuen
Na'ia 'ai te'te'e se rer
'O'oroa fanau ta serer
Ö'fa ta urua 'on sere.

3. 'Eprahama hoa' 'on le'ta
Ma ta fa haharag rua
Teran fol iris la' 'e sal
Ma fa rua fu'ueria.

7. 'Ager ta he'oa, "'Epraham,
Se mane'akia fa heta,
'Äe ka 'uru'akia ra ia
Rämet ta'a la susunua."

4. 'Aisäke töl 'ai te'te'e
Ö'fa ta, rahit ma ser he
Iria leuof 'e vao 'ai ta
Ka fanau ta sai 'oa.

8. 'Eprahama 'es 'Aisäke
'Aisäke 'es sio Jekope
Iris fol ne a'pumua'ak
'Ait ne 'os temamfua.
Notes: Verse 5 can be sung by two people one after the other; in verse 7 the angel's words to Abraham are spoken while others do the humming.
We telephoned Elisapeti Inia in Savlei, Rotuma, on October 4, and she gave us this update:
Savlei held their workathon on Saturday, 3 October followed by a feast in their meeting hall. They invited the District Officer, the Medical Officer and his wife (the Health Inspector), G/Titofag of Juju, G/Kautarfon of Itu'tiu, and G/Mora' of Pepjei, as well as the fa ha'a from Sumi and the Motusa fekau. All of these honored guests attended. Demonstrating how they had learned Rotuman custom, the high school students prepared, presented and served the feast. Elisapeti's ma'piga, Timoce, acted as mafua and announced the feast at the doorway. Elisapeti composed the fak pej, 8 verses, all about the appearance of the village, now so clean from the sea to the bush, from the mountain to the beach. Six high school girls (including 3 from Feavai) prepared the kava. Ritia from Oinafa came with her videocamera and videotaped the proceedings. Elisapeti said she hopes the video can be sent to Rotumans in Suva and overseas. Especially for those who may not know which place they are from, Ritia taped Elisapeti for an hour telling about the different fuag ri (house foundations).
---
From Marlon Isimeli in Suva (10 September 1997)
Victor Rigamoto, son of Josefa and Jiuria Rigamoto, died on 6 September. He collapsed at his home on Saturday afternoon and was rushed to Hospital, passing away at 6 pm on the same day.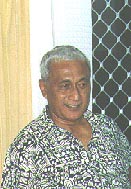 Victor Rigamoto
The funeral service was held at the Churchward Chapel on Wednesday 10 September at 1 p.m. The chapel was filled to capacity with people from different cultures, religions, and races, all touched at some time by Victor's presence and personality. Extra chairs were brought in from the church hall, but there were not enough to accommodate all the mourners, some of whom sat in the aisles while others listened to the service from outside. The mourners included ambassadors, Members of Parliament, and leaders of the Methodist Church. Following the service, Victor was buried at the Vatuwaqa cemetery, although plans had been announced for a burial at sea. The eulogy was given by the Honourable Filipe Bole, Victor's former teacher at Queen Victoria School, and now a Member of Parliament and Cabinet Minister.
Victor Rigamoto held the post of Secretary to Parliament (the first person to do so) before he retired earlier this year, after which he took an active role in the Methodist Church, representing it in a recent conference for Pacific churches. Victor was a leader within the Rotuman community in Fiji and will be greatly missed. He is survived by his wife Kafoa, four sons and two daughters, as well as by his parents, his sister Lorraine and his brothers, Walter, Taito, and Robert.
---
From Alan Howard in Hawai'i (2 September 1997)
The Rotuman Association of Hawai'i (TEFUI) enjoyed a four-day campout over the Labor Day weekend at Malaekahana Beach Park on the north shore of O'ahu. As always, there was plenty of food (including he'e and fekei) and lots of clowning around. We swam, played cards, volleyball and horseshoes. Sofie Turaga and Mereone Yee taught Rotuman weaving to the children and Maria Dumas taught them Rotuman songs and dance steps.(PHOTOS: these may take a while to load, so please be patient.)
At our monthly meeting, held during the campout, Marseu Nataniela was unanimously elected President of the Association, to be assisted in his chores by his Hawaiian wife, Maxine. Marseu is the son of Tifare Fimone (from Losa) and Terotuma Harieta (from Itu'muta). Marseu is a close cousin on his mother's side of Gagaj Osias, the current gagaj 'es itu'u of Itu'muta.
---
From Nancy Sloffer in Indiana (2 September 1997)
I have just returned from Rotuma where I visited with my son (Chris Sloffer) the current Peace Corps volunteer and a teacher at the secondary school in Malhaha. There was some difficulty arranging transportation for the netball team to get to the Island zones competition but Sunflower Air finally sent an extra flight up to get them. The netball team took the silver medal for the competition.
The rugby team was able to take a navy mine sweeper that had come to Rotuma to deliver supplies for the school building. The rugby team did not fare as well in the competitions. They were initially routed by Ovalau and then lost the rest of their games to end up in last place.
During Term 2 at the secondary school both of the old lime buildings that had been condemned were torn down. One new building has been completed and a second one is well on the way to comple tion. The new buildings are constructed from concrete blocks.
The pumping station for the Malhaha reservoir is broken and it is hoped that it will be replaced by Fiji. In the meantime Motusa and Sumi are pumping water for that area.
The generator for Malhaha has been broken since the middle of January. It was repaired briefly in May but only ran for about 5 hours before another part broke. The motor for the generator is currently in Fiji and it is unknown when it will be returned.
The New Zealand Air Force sent a C-130 to Rotuma twice during term 2. The first time the New Zealand Ambassador and several government officials came for a day to tour the schools and see if New Zealand could put some aid money into the educa-tion system there.
The second trip the plane brought some of the building materials for the school. Only half of the materials made it because the plane was filled with other materials that were sent by the Public Works Department. A USA Marine, Col. LeVan, also came on the plane both times to see about the schools and offered a donation of used textbooks for the schools.
Three Norwegian brothers flew out to the island when I went. Their last name is Markussen. Their reason for going to Rotuma was because their grandfather had been there in 1904 and they grew up hear-ing wonderful tales about Rotuma. Their grandfather was named Wilhelm Bernhard Markussen (born 1874, died 1959). He was the Captain of a ship named S/S Freidi. He transported lumber from Norway to Africa and then sailed on to Rotuma to pick up copra to take to England. He stayed on Rotuma for about 3 months. The brothers greatly enjoyed their trip to the island.
On August 6th Frank Atu fought Peter Kinsella who was the Australian Light Heavyweight Champion. Frank won the fight by unanimous decision in Brisbane.
Chris is working on his secondary projectÑthe dispensary building. The walls are up and if all went well the roof should be on by now. They are waiting for some other supplies but hope to have it finished in the next month. The new school buildings are very nice and a big improvement.
The closing ceremonies for the Peace Corps were very nice. The P.C. director came for that week as well as Congressman Shea from ConnecticutÑa former volunteer in Fiji. There were numerous receptions and dinners and a lot of returned volunteers attended. Chris will be sad to leave Rotuma but has decided that it is time to get on with his life. Living there has been a wonderful experience for him and me as well.
Former Peace Corps volunteer Paul Baker (the one before Chris ) is attending Wake Forest University in Winston-Salem, North Carolina. He is going for a PhD in biochemistry and will be getting married next year in Seattle, Washington. His bride-to-be is a Peace Corps volunteer who served in the same group. His email address is <prbaker@bgsm.edu>
---
From Marlon Isimeli in Suva (1 September 1997)
On Friday 29 August The Fiji Daily Post reported the following front page story:
General Jioje Konrote has been appointed Force Commander of the United Nations Interim Forces in Lebanon (UNIFIL) from October 1. The appointment, made by the United Nations Secretary General Kofi Annan, is a major achievement by Fiji and Brig-Gen Konrote. It is the first time in the 19-year history of UNIFIL that a Fijian leads the peacekeeping operations which was first set up during the Israeli withdrawal from occupied Lebanese territory. Brig-Gen Konrote, the Fiji Military Forces Chief of Staff, succeeds Major-General Stainslaw Franciszek of Poland, who has served as commander since April, 1995. Brig-Gen Konrote will be promoted to Major-General before he assumes his new appointment. He has served with the FMF since 1966 and received military training in Fiji, New Zealand, and Australia. He is a graduate of the Australian College of Defence and Strategic Studies and has had previous experience with UNIFIL where he served five times, as Company Commander (1978, 1980-1981), Senior Plans Officer at UNIFIL Headquaters (1983-1984), Battalion Commander (1986-1987, and Deputy Force Commander (1990-1991).