From Sanimeli Maraf on Rotuma (23 November 1998)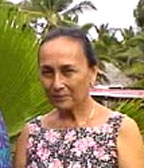 Sanimeli Maraf
As December is close by we are very busy with tukag omoe, school concerts, ladies preparations, etc., not counting the church side.
The Rotuma Council met on 12 November 1998 and entertained a proposal from Häe Rigamoto and two associates to start a kava business in Rotuma. The kava would be pounded into tablet form, and the Council would have a 50% share in the business.
Gagaj Maraf received a letter from Rejieli Mejieli Rigamoto, who is doing her MSc in Biology at University of the South Pacific. She proposes to do a study entitled: "A floristic survey and conservation biology of the coastal littoral vegetation of Rotuma." It would provide information about how to preserve the coastal lands.
At the moment the ramp is being built at the wharf at Oinafa and should be finished in December, according to the PWD supervisor.
Paul Manueli informed the Council that he can only spend two days on Rotuma, from 10-12 December, because of an overseas engagement, so Noa'tau has changed the date of their agricultural show and kato'aga to 11 December.
Fara time starts on 1 December. I believe there will be two flights a week at first, then three flights a week, all of which are fully booked. The Bulou-ni-Leva's December trip is also heavily booked.
'Otomis hea'hea lelei se te' ne aus 'otomis kainaga atakoa ne noh tuof e os hanue teis Rotuma e te' ne ut atakoa ne ran te.
Merry Christmas and a prosperous Happy New Year to you all. God Bless!
---
From Mark Vaurasi in Wellington (27 November 1998)
The Wellington Rotuman group held a meeting in Upper Hutt on Saturday 21 November 1998. Present were:
Kautane Henderson Family
Lisa and Fon Kitione Family
Aggie and Kulatea Family
Itu Owen Family
Torika and Quiapon Family
Emi and Scott Family
Foloi Siu
Arthur and Ravai Shaw, Tony and Shalom Tuatoko
Karen and Mark Vaurasi Family
Sydney Viki
Some highlights of the meeting:
Many expressions of gratitude for the support given the group's participation in the Labour Day weedkend kato'aga.
Congratulations to Kirsty Henderson for her selection as an exchange student to Japan.
Lana Vaurasi was awarded 2nd prize at the Upper College 7th Form Prize giving for Printmaking. Lana also received a merit certificate for physical education.
Following Mark Vaurasi's resignation as Group Leader, Arthur Shaw was elected to the position.
---
From Fiji Sunday Times (15 November 1998)
Frank Atu Steals Lupe's Thunder
Heavyweight champion of Fiji Frank Atu jabbed his way to victory with a unanimous points decision over new-based Samoan Lightning Lupe at the National Gymnasium (last night, Saturday Nov 14).
The judges cards went to Atu 99-93, 99-92, 99-92 for an unbeaten run on home soil.
Despite Atu's dominance, he failed to produce the knockout punch, and last night said he would move to the lower weights.
"There is so much pressure in the heavyweight. It takes a lot of energy to absorb the powerful punches and I plan to move back to the cruiserweight."
Atu, who started off in the middleweight, said he would fight local heavyweights, but opt for lighter against overseas opponents.
"My plan was to wear him down with my jabs because I wasn't fit enough. But I think my punches don't suit a heavyweight ," he said.
A worn out Lupe said Atu disrupted his game plan with his consistent jabs.
"I wanted to take him out in the third round. I managed to get a left cross which stung him in the third round, but I didn't finish off," said Lupe.
Lupe, 28, who fought his second heavyweight contest last night, said long-reach and fast jabs gave Atu the advantage.
Atu worked on his jabs throughout the contest using his reach to keep Lupe's powerful hooks and crosses at bay.
---
From Marlon Isimeli in Suva (23 November 1998)
The Rotuman Churchward Chapel is hosting a fundraising bazaar at the Raiwaqa Catholic grounds this Saturday - 28th.
Four groups--Raiwaqa, Rewa Street, Raiwai, and Toorak, will be competing to be the most profitable group that Saturday, so be prepared for some scrumptious cakes, mouth-watering pie, and all different flavors of fekei and palusami as each group tries to outdo the other ( come along if you can :))
The function will be opened by the Rev A. Faktaufon, and I believe they have organized pasa (cards) and some groups have mentioned in committee meeting that they have practiced performances, so be prepared for an entertaining time .
The following day, choirs from the same four groups will compete for the most contributions and best song at Churchward Chapel.
So here's wishing them all the very best in their fundraising. This fundraising this coming weekend will be a milestone in the church's history, for if it goes according to plan, all money owed to the bank will be paid off.
----------------------------
and some bits and pieces from Suva....
The Suva Pepjei Club had a fundraising day last Saturday. The Suva Pepjei group is one of the most entertaining Rotuman groups to watch perform. They're very innovative, and provide that punch that the other districts normally miss in their Rotuman cultural dances.
Malhaha is planning their cultural day for the 5th of December at the Suva Grammar grounds.
---
From Sanimeli Maraf (10 November 1998)
At a district meeting yesterday Maraf discussed the matter of Sisilo (burial place of the sau). If agreed upon, Noa'tau would ask the Rotuma Council to request the Fiji Government to designate Sisilo as a "Trust Fund" monument. Reverend Fatiaki agreed and explained what this meant to the people and things were going well, but Fekau Mika opposed the idea. He reckoned that things had already been taken from there by Henry Gibson and said that he believed in looking forward rather than backwards. After a good discussion the majority of the people disagreed with the idea. I then asked if the site could at least be kept clear of weeds, but the men didn't seem to be interested, so that was it.
Maraf invited the constable, Ata Mani (a Noa'tau man) to come and explain some rules to the people to help educate them. We also had the medical team from Ahau explain to us the work they do and their roles in the community. These were good exercises.
Several motions were approved at the meeting, including the following:
(1) Request the Council reduce bus fares to Ahau, which are now F$4 return.

(2) Request that charges for bus hire be reduced. From Rocky Point to Matuea now costs F$19.50 and from Kalvaka to Fafaisina is F$19.50.

(3) Request information concerning telephone installation in Noa'tau; when will the technicians come from Suva to do the installation? Some of the people in Oinafa already have their phones connected.

(4) We want to know when the District Officer goes to Fiji, who is left to look after the island in case of emergencies?

(5) What's the situation with the scale insect that has been afflicting our trees and plants? We haven't received a reply from MPI yet.
Minister Paul Manueli and his wife Lydia will be in Rotuma to open the Noa'tau Agricultural show on 18 December. Women's handicrafts will also be on display. The December Council meeting will be on 17 December. The Minister and his Lady will spend Christmas on Rotuma. At this moment we are practicing our folk dance. Reverend Fatiaki is the manatu and the songs sound great. (For the texts of the songs click here.)
This Christmas the Itu'muta kainaga from Fiji and abroad are coming by the Tui Tai to spend the holidays in Rotuma. Their programme includes a visit to Uea and other offshore islets. The sea adjacent to Itu'muta is now fono (taboo) and will remain so until the visitors come. The visitors plan to offer their services to paint our hospital roof, etc. We hope to purchase the paint in time for their arrival.
To all our kainaga overseas: Your kind help toward maintaining and improving our hospital would be greatly appreciated; there are still many things to do. We are grateful for the kind help we received from the Embassy of Japan...May God Bless Them! Thanks also for the donations made by Alan and Jan.
---
From Bruce Tizard -Varcoe in England (17 November 1998)
On Thursday, 12 November, Viane Amato Ali received his Master of Science in Tourism Management and Planning at an awards ceremony in Bournemouth, England. Loraine Tizard -Varcoe (nee Rigamoto) and Katarina Erasito travelled down from London to attend the ceremony along with many congratulations from other family members !
Viane returns home to Rina and their three boys on Wednesday 18 November.
---
From Alan Howard in Honolulu (8 November 1998)
Last evening at the Hawaii Theater in downtown Honolulu, Vili Hereniko's short movie entitled "Just Dancing" was presented as part of the Hawaii International Film Festival to an appreciative audience. This was the film's American premiere; it had been shown earlier this year in Pusan, Korea, at the Korean International Film Festival. The movie was produced by Vili's wife, Jeannette (Paulson) Hereniko, who founded the Hawaii Film Festival 18 years ago. Just Dancing is an adaptation of Vili's successful play, "Fine Dancing," which was performed in Honolulu in August 1997 to rave reviews. The story concerns an abused wife who learns valuable life lessons from a Polynesian goddess who teaches her to find her true self through traditional dance. It is a beautiful film, well worth watching. After the performance Vili and Jeannette treated the cast and some Rotuman friends to dinner at Zaffron Restaurant, Honolulu's premier (and only) Fiji-Indian restaurant.
---
From Martoa Dickinson in Sydney (8 November 1998)
The Rotuman Language Workshop we have been running in Sydney has grown innumbers, with about 40 people now attending. We have had printed Christmas cards in Rotuman which are now on sale. The project has already taken in almost a thousand dollars worth of sales and the cards were only released last Saturday.
We recently had great news that Rev Eva Fisher (from Itumuta) has been appointed to a new post in Sydney, starting in the new year, as Uniting Church chaplain at Westmead Hospital. Her husband, Rev Bill Fisher has been appointed to the United Church Assembly office in Sydney. We congratulate them with pride and joy. It will be wonderful to have them both in Sydney.
---
From Daily Post (4 November 1998)
Fijian, Rotuman to be Used in Examinations for Schools
CABINET yesterday agreed to make the Fijian and Rotuman languages examinable in schools from Class I to Form 6 level.
The Minister for Information, Filipe Bole, confirmed that Cabinet had decided to direct the Ministry of Education to introduce the teaching of Fijian and Rotuman as compulsory subjects in all schools from Class I to Form 6.
"These subjects will also be considered compulsory for the Fiji School Leaving Certificate Examination, for all candidates," Mr. Bole said.
In addition, he said, the Government would be asking the University of the South Pacific (USP) for these languages to be included as part of its degree studies.
All Fiji students at the USP on Fijian Affairs Board scholarships would be required to take Fijian/Rotuman language courses as part of their degree programmes.
Fiji's Constitution recognises Fijian, Rotuman, English, and Hindi as official languages.
The decision to introduce Fijian and Rotuman language courses in schools and at the USP recognises the importance of understanding of understanding, respecting and appreciating the culture of the host community, the indigenous Fijian and Rotuman communities.
The special recognition of Fiji's indigenous cultures is to be encouraged hand in hand with appreciation of the reality of Fiji's multi-ethnic and multi-cultural diversity.
Mr. Bole said Cabinet was aware of the Western Samoa conference on cultural right (sic) which zeroed in on the survival of minor communities in the world.
For a community to survive, he said, language should be maintained and known.
He said the Hindu language could not die because it was a universal language.
Unlike the Fiji and Rotuman language, Mr. Bole said there were only about 400,000 users in the whole world so there was a need to take precautionary measures to see that it did not die.
---
From Fiji Times (4 November 1998)
Save Languages: Bole
The Fijian and Rotuman languages may become compulsory in primary and secondary schools to prevent them from becoming extinct.
This was one of the recommendations discussed in Cabinet yesterday.
The proposal came from the Minister for Education, who submitted a paper on the recommendations.
Information Minister Senator Filipe Bole said the Ministry of Education was working on a programme to make the two languages compulsory from Class One to the Fiji School Leaving Certificate level, or Form Six.
Cabinet agreed that the two languages be made mandatory as a subject of examination for USP students on Fijian Affairs Board scholarships.
Senator Bole said if one was a Fijian or a Rotuman, one would have to take those two languages.
He said a conference was recently held in Samoa where they discussed the survival of minor communities in the world in the face of multiculturalism and multiracialism.
He said this was discussed widely but a lot of time was spent on the question of language.
"If a language dies, culture dies," he said.
Senator Bole said the Fijian language would properly disappear over time because most people spoke in English.
"To save the language that conference was referring to ...all the languages in the Pacific. They were rather frightened by the prospect of their languages being lost in the face of multiculturalism and multiracialism." he said.
He said the Constitution allowed the use of three languages: Fijian, Hindi and English.
"There is a real danger of the Fijian and Rotuman language dying away," Senator Bole said.
"The speakers of the Fijian language are the 400,000 Fijians who live here."
Senator Bole said there was no worry about the English and Hindi languages because they were widely spoken.