From Moira Vilsoni in Suva (22 July 2003)
Stranded passengers are a normal sight, but when they are stranded for more than three days, it becomes a concern.
More than 30 passengers, who were supposed to leave for Rotuma on Saturday by Bulou ni Ceva, were told that the boat had an engine problem.
Speaking on behalf of the passengers, Mere Fiu said they were not told about the problem until late Monday evening.
Mrs Fiu said the passengers couldn't leave the boat because they had loaded all their cargo on board.
She also said the shipping company refused to provide food for the passengers since the weekend.
"We have been told by the shipping manager, Peter Lee to find our own food and the captain of the ship had to come and tell us what the problem was.
"Mr Lee said we were welcomed to stay in the boat until the engineers fix the engine," she said.
According to the passengers, the situation at the wharf was frustrating.
A male passenger who didn't want to be named said the condition of the boat was not worth the $100 boat fare they paid. He said there was no water on board and they (passengers) had to clean the boat.
"We feel for our relatives who have been coming to the wharf everyday because it is not an easy thing coming here everyday," he said.
Bulou ni Ceva's shipping manager, Peter Lee said the company had provided security to look after the passengers' cargo.
"We only provide food when the boat starts sailing and in the meantime, they have to look for their own food.
"We hope to start sailing as soon as possible, but that would depend on the engineers.
"If they can fix the problem today (yesterday), then we will advise all passengers the departure time," said Mr Lee.
---
From Fiji (19 July 2003)
Maxine Joe and her mother, Sylvia, finished first and second in the Fiji Women's Open Golf tournament. Congratulations to both of them! The results (gross scores)
| | | |
| --- | --- | --- |
| Maxine Joe (hcp 6) | 77,78,73 = 228 | (Fiji SPG Rep) |
| Sylvia Joe (hcp 4) | 79,78,74 = 231 | (Fiji SPG Rep) |
| Gye Okh Oh (hcp 7) | 78,77,77 = 232 | |
| Lyndall Fisher (hcp9) | 79,81,81 = 241 | |
| Selai Pridgeon (hcp 4) | 85,77,81 = 243 | (Fiji SPG Rep) |
| Sala Gardiner (hcp 3) | 81,81,81 = 243 | (Fiji SPG Rep) |
| Latu Pongi (hcp 10) | 83,83,78 = 244 | (Tonga SPG Rep) |
| Sai Natavo(hcp 5) | 84,83,80 = 247 | |
Also competing in the tournament was Saverina Peters from Fort McMurray, Canada.
---
17 July 2003
Rotuman Poster on the "Unity Fence," which encloses the space formerly occupied by Morris Hedstrom in downtown Suva
This section of the fence was painted by the students of Rotuma High School in 2001. The students were in Suva for the annual Coca-Cola meet (secondary schools athletics). The project was initiated by the Ministry of Reconciliation and the theme was peace and unity in Fiji. (Thanks to Moira Vilsoni for providing this information.)
Photo by Alan Howard on 23 June 2003
---
From Ned Taito with U.N. Peacekeeping Force in East Timor (16 July 2003)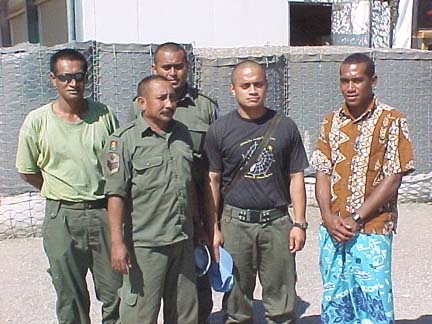 Posing at HQ Fiji Coy - FOB Viseisei during celebrations of the
medal parade. Back L-R, Hanfiro Muriraki & Ned Taito; Front, Tony Alexander & Atunaisa Vakatale [photo by Ned Taito]
There are five of us serving in East Timor with the 6th Contingent. The majority will return home in early August at the end of their 6-month tour of duty.
---
From Bruce Tizard-Varcoe in England (15 July 2003)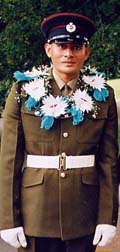 Jonathan wearing a tefui
Congratulations to Jonathan George Susau, son of Gagaj Taipo (Visanti Susau) and Amoe Susau, on successfully passing his 'Phase 1 British army training' on Thursday, 3 July.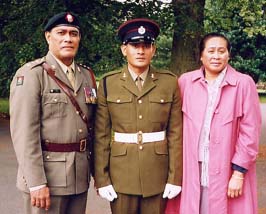 Captain Varea Susau, Jonathan and Sapeta Poar
Jonathan won the award for 'best drill and turn out' and upon completion of his training, and will be joining the 'Royal Corps of Engineers'. He has now begun 'Phase 2 training'.

In attendance were his uncle Captain Varea Susau, who flew over from Fiji, and aunties Sapeta Poar and Loraine Tizard-Varcoe.
(Photos by Loraine Tizard-Varcoe)
---
South Pacific Games Update (15 July 2003)
Andrew Iroa played for the Cook Islands teams in rugby sevens. His mum is from Juju and his dad is from Motusa. He is married to a Cook Islander and has been staying in the Cooks for the last seven years. The Cook Island team played against Fiji in the gold medal play off, which Fiji won 43-10.
---
South Pacific Games Update (11 July 2003)
Sylvia Joe and her daughter, Maxine Joe, are members of the Fiji Women's Golf Team, which won a silver medal at the Games. Sylvia's maternal grandparents were Garagsau (from Pepjei) and Sivlia Mose (from Haga, Juju).
---
From Shinn, Lisa & Eric Ete in Apia, Samoa (10 July 2003)
I want to say how proud I am of my brother, Eric Jioje Hanfakaga, who competed for the first time in bodybuilding. Even though he did not win a medal (finished 4th overall), may this golden experience be the beginning of better things to come. Keep pumping those weights and see you in Apia- 2007!

Congratulations to Eliesa Irava for a well deserved win and to all those who competed or won medals during the SP Games. Keep up the brilliant performance!
---
Alan & Jan in Honolulu (10 July 2003)
A report on our recent visit to Rotuma and Fiji. This is a personal account of our activities and the people we spent time with. There are lots of photos, so download time might take several minutes for visitors using dial-up modems.
---
Update on South Pacific Games from Marlon Isimeli in Suva (10 July 2003)
SPG Touch.
Fiji's just increased their gold medal tally with wins on both the Mixed and Men's teams for gold. Rotuman Konrote Penjueli must be celebrating with his teammates and family right now, being a part of the Fiji contingent.
---
From the South Pacific Games Website (10 July 2003)
Another Fijian powers to gold
By Shane Antonio
FIJI`S Eliesa Irava cruised his way through to win gold in the 100kg category yesterday (Tuesday).
Irava who hails from the district of Motusa in Rotuma dedicated his win to all the young people of Fiji. "I dedicate this win to all the young people especially to my four young children who got to watch me compete for the first time," said a smiling Irava.
It was obvious from the very start that Irava did not take any of his competitors as possible threats as he lifted 275, 215 and 245 kilogrammes in squats, bench press and dead lift respectively to score a total of 725 points and take first place.
Irava said that because he had competed with most of the lifters in previous competitions, he had a clear perspective of how much they could lift and how much he had to put in to win.
He also thanked his family, coach, team mates and supporters for their encouragement and said with his current performance he should be able to qualify for the World Bench Press Championship.
Taking second place was Lex Dabwido of Nauru with 680 points beating New Caledonia's Soakimi Falevalu who scored 635.5 points.
It was unfortunate that Fiji's other competitor in the same category, Eric Joji Hanfakaga missed out taking fourth place with a score of 615 points.
In the first day of competition, Fiji's Benjamin Fatiaki took bronze in the 82.5 kilogramme category and Mohammed Ramzan won gold in the 56 kg category. Iliame Verebia also took gold in his 60 kilogramme category and said he was proud and happy to win. He did say it took a lot of sacrifice.
"Its great, my first SPG and I win gold, at least now I know the level of competitiveness I'm on. "Injuries stopped me from training for about two months, that was quite worrying but I guess I pulled through," said the young 25-year old Kadavu lad.
Power lifting at the Yat Sen Hall ended yesterday.
---
From Alan & Jan in Honolulu (9 July 2003)
David Eggleton has contributed a poem entitled "The Werewolf of Grafton Gully," to Whetu Moana: Contemporary Polynesian Poems in English, edited by Albert Wendt, Reina Whaitiri, and Robert Sullivan. David Eggleton is the son of Kelera Sitiveni, whose family roots are in Motusa.
Whetu Moana is the first anthology of contemporary indigenous Polynesian poetry in English edited by Polynesians. It collects poems written over the last twenty years from more than sixty poets in Aotearoa, Hawai'i, Tonga, Samoa, the Cook Islands, Niue, and Rotuma.
---
Update on South Pacific Games from Marlon Isimeli in Suva (9 July 2003)
Badminton
Burty Molia wins gold again in the Badminton Mixed Doubles. He and partner Karyn Whiteside won over their arch rivals New Caledonia. This makes it 2 golds and 1 bronze for Burty Molia in the Badminton. This is the first time that they have Badminton at the SPG and Team Fiji has done well.

Basketball
Fiji's women's basketball managed to come through their toughest match so far against Samoa this afternoon.
Fiji Touch Team
The only Rotuman on the team that I'm aware of is Konrote Penjueli. I'm not sure if he's playing for the mixed or men's team, but both teams are doing well. The mixed team is playing off for gold against Cook Islands, who have just returned from competing in the World Championships.
---
Update on South Pacific Games from Marlon Isimeli in Suva (8 July 2003)
From the Fiji Times Wednesday, 9 July
Irava powers way to gold
by Percy Kean
Cherie and Willie Irava will never forget the world-class performance of their dad, Eliesa, who won a gold medal in the South Pacific games powerlifting competition on at the Yat Sen School Hall yesterday.
Cherie said it will be one proud moment they both will remember to share with their friends at Gospel Primary School in Nasinu. "I'm really happy," said a shy William, who had been watching from the stand with his family.
The two children had actually left their two other siblings, mum and grandfather on the grandstand to enter the area where lifters warmed up to congratulate their proud dad, who seemed lost for words.
What makes it extra special for Irava, a veteran lifter, is that this is "the very first time they have seen me compete even locally, this is the first time they came out to watch me, even at the National Championships they never watched me perform."
Irava replied with a "yes" and a wide smile when asked if they brought him good luck.
"I would like to dedicate the success to all the young children who are here today, and who have been following throughout," Irava said. "I will be celebrating very much with my family and teammates."
Eliesa Irava won the tough 100 kg class to make it the fourth gold medal for powerlifting after Mohammed Ramzan, Iliesa Verebula and Richard Lewanavanua produced new games record because it's the first time that the SPG competition is run and controlled by officials of the International Poewrlifting Federation.
Irava's total of 725 came from 275 in the squat , 215 bench press, 245 in the deadlift and also a qualifying lift for the World Championships.
"Winning the gold medal today made me feel proud, I knew it was coming my way after our team's performance yesterday. "
"Plus, my whole family watching me today and my workmates and training mates and the Suva crowd, especially the boys from Charmans, gave me that enthusiasm to do well."
It was in the bench press lift that Irava blew his Nauru, New Caledonia and Tahiti opponents apart.
"That was a record lift for me, the record was 190 and I started off with 190 so that gave me the extra confidence to come out with the 215 lift in my third," Irava said.
"If I continue with 215, I should make the qualifying rounds for the World Bench Press Championships in September in Australia and hopefully make the World Championships."
Team Manager Vilitati Qumivutia said Irava was a hard, dedicated worker and is in a class of his own.
"That boy is in the world standard, he totalled about 725 and he has a bright future and to be really honest, it's through him that the sport of powerlifting is alive in Fiji, because of his dedication and simpleness. Personally and with all sincerity, I thought all performed very well."
Badminton
Fiji Team won gold in the badminton team event, and Burty Molia was a part of this team. Burty also won bronze in the singles individual event yesterday.
Basketball
Marieta Mani is the young Rotuman lass in the Fiji women's basketball team, which has been undefeated so far in the competition. The team play Samoa today in what's promised to be a tougher match than their previous two, which they won convincingly over Palau and Guam.
Women's Hockey
Adriena Varomue's name has been repeatedly mentioned in the Fiji TV news reports on the women's hockey team since their first game on Monday. Fiji Hockey has been dominating their opposition, winning 5-0 vs Samoa, and trouncing PNG with a score of 8-1, in which Varomue scored 3 goals.
---
Update on South Pacific Games from Marlon Isimeli in Suva (7 July 2003)
Rotuman powerlifter Iliesa Irava has just won Gold for Fiji in his powerlifting categroy ealier today, taking Fiji's medall tally to third place behind New Caledonia and Tahiti. His was the final event for Fiji's powerlifting medal chances and he proved too strong for the opposition.

Outrigger canoeing
Yohanna Mitchell, daugther of Dr Robin Mitchell was a part of the Fiji Ladies V6 team that won 5 Silver medals in the outrigger canoeing. She's recuperating from the games spending her time managing her coffee booth at the SPG games theme Park.

Power Lifting
Rotuman Benjamin Fatiaki won Bronze in his weight category last night (Monday night) as the Power Lifting competition kicked off to a good start for Team Fiji. His bronze medal contributed to Fiji's PowerLifting medal tally with 2 Gold medals won by his team mates in their lighter weight categories.

Discus
Sosefo Fonorito qualified for the discus finals this afternoon with a throw of 40.3 in yesterday's strong wind and heavy rain. In conditions that caused team mates and competitors to slip and fall during their throws, Sosefo and two of his Fiji teammates qualified for the finals today.
Squash
Rita Morris was a member of the Fiji Ladies Squash team that won Silver in the Team event for squash.
---
Extract of an article from Fiji Times July 6th, by Solomoni Biumaiono.
Local Side makes it to finals
"Fiji and Papua New Guinea cricketers will play-off for the gold and silver medals after the hosts beat Cook Islands by 127 runs yesterday (Saturday). Going into their last round robin match tied at four points with Cooks, the Fijians displayed a wonderful opening batting performance to score 280 runs for 9 wickets within the mandatory 50 overs. Young opener Colin Rika scored a half century and established a good run rate that proivded the platform for middle order batsman Joe Dabea to rip the Cook islander's bowling attack apart. Rika established a partnership with Dabea whose eventual total was 75."
---
From Alan and Jan in Honolulu (4 July 2003)
On our recent trip to Rotuma we had opportunities to discuss with a variety of people various issues confronting the island. Here are some of the understandings that we came away with:
1. Regarding the land commission. We were told that implementation is being held up while the Rotuma Land Act (RLA) is being revised. There are two phases to the commission: surveying the land and registering claimants. Some people expressed the opinion that they would like to see the surveying phase begin without waiting for final revisions to the RLA because the Act will not affect boundaries, only who can be considered legitimate claimants.
2. We asked about current feelings regarding Rotuma's relationship with Fiji. The consensus seemed to be that independence was not practical, but knowledgeable individuals told us that a move toward greater autonomy is in the works. This means that government funds would go directly to the Rotuma Council to administer, along with development and aid funds, instead of going to the District Officer. The Council would then be free to decide how the funds should be used/distributed, but some expressed the view that this would only work properly if there were laws or guidelines to prevent misuse of such funds. The Rotuma Act could be updated to help in this regard.
3. Several people expressed concern over the rather high dropout rate among students coming from Rotuma to Fiji for secondary and tertiary education--as high as fifty percent according to some. The common explanation is that youngsters were coming directly from their parents' homes, where they have been secure and well cared for, to a situation where they are living with relatives and are getting much less supervision. They have difficulty handling the greater degree of freedom, according to this theory. They also find themselves surrounded by non-Rotumans, and may feel very homesick. Of course, there are far more diversions in Fiji competing for study time as well. One creative suggestion was that the high school on Rotuma could implement a course to prepare students for the transition.
4. We asked about plans for tar-sealing the airport runway on Rotuma and were told that it has already been approved and is on the government's list of developmental priorities. When it happens, however, is dependent on the availability of funds; if disasters divert government revenues the project could be delayed. Hopefully the project will get underway within the next couple of years. Tar-sealing the runway would allow heavier and larger planes to land, such as the planes that fly to Tuvalu. This would facilitate Rotuman exports to Tuvalu, including root crops like taro, yams, etc.
5. Regarding the possibility of Rotuma exporting goods to Tuvalu, and possibly Kiribati, we were told that Rotuma has been approved as an export port by the Fiji government, which has agreed to station a customs agent there. The only thing holding up implementation at this time is that they are waiting for the government of Tuvalu to decide on the quarantine regulations for produce. Some people expressed the hope that the people involved in the trade (Rotuman suppliers, Tuvaluan importers) could work out arrangements on their own with a minimum of government involvement (complicated negotiations, treaties, unwieldy regulations, etc.). They favored a delegation of Rotuman farmer-producers along with members of the Rotuma Council going to Tuvalu to find out what the people there need and want. That way trade agreements could be worked out on a one-to-one basis instead.
---
From Janet and Saunoa Molia in Victoria B.C. (3 July 2003)
We wanted to let you know that our two cousins in Fiji, Burty and Filivai Molia are representing Fiji in badminton at the South Pacific Games. Their competition begins on July 5th. A cousin e-mailed us a picture of them at the opening ceremonies (below). Their father Filivai was half Rotuman (brother to Saunoa's father). We Molias (in Fiji and Canada) are very proud of them and their accomplishments!

Burty and Filivai Molia
According to a report on the Fijilive Website, "Burty Molia stood out in Fiji's 5-0 win over Samoa in the badminton team event on Saturday."
---
Update on South Pacific Games from Marlon Isimeli (1 July 2003)
Most of the events are team sports this week. There are two Rotumans on the Fiji netball team: Bernadette Ramafono and Seforsa Munivai. The Fiji netball team is undefeated so far and predictions by netball pundits is that they are looking at a possible final match against PNG.
The Fiji cricket team lost to Samoa by one wicket yesterday. The only Rotuman on the team is young Colin Rika who's mother is Rotuman. Colin is the opening batsman, and wicket keeper for the side.