From Savika Oakley in Auckland (28 June 2006)
Congratulations to Ruth Elizabeth Oakley, daughter of Roger and Savika Munivai Oakley who graduated from the University of Auckland with a Bachelor of Commerce Degree majoring in Commercial Law and International Business in May 2006. Ruth currently works at the National Bank of New Zealand.
---
From Fijitimes Online (28 June 2006)
Bulou Ni Ceva awaits decision
A DELAY in aircraft flights to Rotuma has forced Kadavu Shipping to put off its decision on whether to salvage the Bulou Ni Ceva.
Kadavu Provincial Council chairman Ratu Josateki Nawalowalo said the shipping company has yet to make a decision because an assessment was yet to be made.
The Bulou Ni Ceva has been stuck in Rotuma for three weeks now after strong winds forced the boat from its anchorage and out into the sea.
"A decision is expected to be made by the directors of Kadavu Shipping later this week on whether the boat would be salvaged or not," Ratu Josateki said.
He said the decision would be made based on the assessment made by a combined team of insurance company assessors, salvage experts, Government Shipping and Kadavu Shipping officials.
"Regular shipping to the maritime provinces is part of island life and as such we are already searching for a replacement Roro vessel."
"We started looking for ships from Japan, China and Singapore and we would now look into this."
Ratu Josateki said the Sinu-i-Wasa is now servicing the Kadavu route and the ship, which belongs to Venu Shipping, would make its first voyage to Kadavu tonight.
On the Rotuma route, he said the alternative ship to service this route under the franchise scheme was the Cagi Mai Ba. However, this could only be activated with the express approval of Fiji Shipping Corporation Limited which manages the scheme.
---
From Curleen Taukave in California (28 June 2006)
A group of leaders of South Pacific Island communities here in California attended the President's Dinner in Washington D.C, and Senatorial Information Sessions on June 19-20. Project Rotuma represented the Rotuman community. For more information and photos go to the Project Rotuma Website.
---
From Jioje Konrote (27 June 2006)
Noa'ia 'e mauri gagaj Rotuam atakoa.
First of all may I take this opportunity on behalf of my wife Sarote and our family to acknowledge with humble gratitude the tremendous support which we received from the kainaga during the period prior to and during the General Elections. To the Chiefs, Church Leaders, Community Leaders, Elders and all the kainaga in Rotuma, throughout the Fiji Islands and not forgetting members of the wider global Rotuman diaspora, I would like to say:
Noa'ia 'e hanisi ma garue lelei.
Thank you one and all for your individual and collective prayers and good wishes. To my campaign manager, Dr (now the Honourable Senator) John Fatiaki, coordinator Mr Tonu Nataniela, the very loyal and dedicated and hardworking Campaign Team, I salute you all and may I commend and congratulate each and every one of you for a job well done.
To my fellow contestants I would like to say, Noa'ia 'e garue ma haihanisiga.
Following the elections I was confirmed as the Minister of State for Immigration and Ex-Servicemen in the new Multi Party Government. It is an honour and privilege to be appointed to the post and I promise to do my best in serving the interests of our little Rotuman community and the country as a whole. In this regard I look forward to your support and cooperation and I am confident that with Almighty God's help and guidance we will prevail in all our endeavours. With my warmest personal regards to all and God bless.
Download Konrote's maiden speech in Parliament
---
From Fijitimes Online (16 June 2006)
Konrote to root out corruption
ROOTING out corrupt practices within the Immigration Department is a top priority, says new Minister of State for Immigration Jioji Konrote.
Mr Konrote made the pledge in Parliament yesterday.
He said a zero tolerance policy on corruption would be adopted over immigration matters.
He said many potential investors stayed away because of the prevalence of corruption among government officials.
Mr Konrote said the issuance of work permits for investors had been a problematic area for some time.
The Immigration Department is charged with processing all visitor, tourist and business visa applications, making it a border agency along with the Customs Department, Fiji Islands Trade and Investment Bureau and other law enforcement agencies.
"Corruption must be stamped out from within the Immigration Department and the whole government machinery if we are to maintain the integrity and credibility of this country," Mr Konrote said.
---
From Fijitimes Online (16 June 2006)
Parliamentarians who made their maiden speeches yesterday continued to support the multi-party Cabinet.
Rotuma MP and Immigration State Minister Jioji Konrote said "this new form of Government is like a breath of fresh air to the nation after a rather long period of uncertainty and distrust".
"It is only logical that unity within this august House would contribute towards a positive political climate conducive to peace and prosperity," he said.
He said when he was Fiji's High Commissioner to Australia and Singapore in the past four years he always watched with concern and sadness how "political bickering and one upmanship within Parliament had stifled and impeded good intentions and initiatives from both sides of the House".
Mr Konrote said despite the varying views and perceptions on issues between the main political parties, they could work together and support their leaders to make the multi-party Government work.
"The nation is now watching and waiting with hopeful anticipation that we will put aside our different political and personal agendas and do the right and honourable thing by ensuring that we continue to put national interests first in all our deliberations and decisions."
---
From Fijilive (15 June 2006)
Bulou Ni Ceva Reported Stuck on Reef
Passenger vessel MV Bulou Ni Ceva is reported to have run on a reef near Rotuma yesterday afternoon.
Police confirm that the vessel was about to anchor when it was swept away by strong currents and winds to a reef.
The passengers and the crew were rescued and are taking shelter at Lopta Village. __________
16 June: the passengers and the crew of vessel MV Bulou Ni Ceva are still stranded at Lopta Village after the inter-island ship run on a reef near Rotuma on Wednesday afternoon.
The captain is still awaiting the arrival of some parts from Suva to repair the vessel and sail back to the capital.
Police confirm that the vessel was about to anchor when it was swept away by strong currents and winds to a reef.
_____________
17 June: Owners of a ship that ran aground on a reef near Rotuma hope to dispatch a team to the island to assess whether the vessel can be salvaged.
The team is expected to leave this weekend in a chartered airplane to assess the damage sustained by the Bulou ni Ceva.
Kadavu Provincial Council chairman Ratu Josateki Nawalowalo said the team would include officers from the Fiji Islands Maritime Services Authority, Kadavu Shipping directors and their insurance brokers to access the damage.
"We are trying to ask the Transport ministry to help us on the issue and we have been negotiating for a plane to be chartered to Rotuma and expect to leave on Saturday or Monday," he said.
He said the ship's 30-member crew were being sheltered at one of the villages on Rotuma and were being looked after by the people of that village.
______________
20 June: "The information we got is that the ship is hard aground on a reef. That means to salvage her would be quite a job," Ratu Josateki said.
"We hope by the end of this week to either salvage the ship or to bring the crew to Suva."
Ministry of Transport chief executive officer Vuetasau Buatoka said the ministry was unable to help salvage the ship as there was no barge available.
---
From Fijitimes Online (13 June 2006)
Remain united: Konrote
While everybody was busy in other activities young Patrick Paula was busy tucking away candy floss and having fun at the Rotuma carnival at Suva foreshore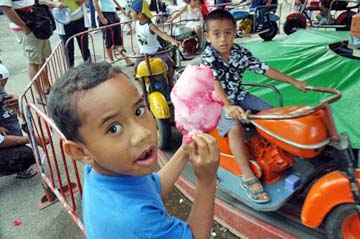 While everybody was busy in other activities young Patrick Paula was busy tucking away candy floss and having fun at the Rotuma carnival at Suva foreshore
ROTUMANS were commended for hosting a successful inaugural carnival last weekend.
The islanders' representative to Parliament Jioji Konrote praised all who took part in the two-day event for their efforts to bring Rotumans from around the country together.
Delivering the closing address at the carnival, the State Minister for Immigration said he hoped something of a similar scale would be done next year.
He reminded Rotumans to remain united and urged them to continue contributing to the further development of their island and its 2000 or so inhabitants.
Fiji-Rotuma Association chairman Viliame Tigarea said the carnival was not so much about fundraising but about bringing people together.
It was a success but one thing we would hope organisers would improve on next year is to get more food because I believe some people went away disappointed since food ran out, he said.
Most stalls at the Civic Centre foreshore were forced to make a second and larger lovo on Friday and Saturday but even these lovo and fekei packs were sold out.
Pepjei organising committee member Jieni Ravai said money raised from the carnival would be used for village projects.
Each district and village have different projects and money raised will go towards that, said Ms Ravai.
Like for us in Pepjei, we are fundraising for a truck for the district, she said.
On Saturday, the main attractions were the cultural activities and we also had medical checks and police talking on crime.
She said youths took centre stage during the night with different items.
The main idea behind it was to bring people together and we feel we have been successful in doing that through the carnival.
Comment by Curleen Taukave-Langman
---
From Fijitimes Online (13 June 2006)
Tailevu to host 925 delegates
FIFTY villages in the Methodist Church's Bau Circuit will be billeting 925 delegates for the annual church conference on Bau Island in August.
Tailevu Committee chairman Ratu Tu'uakitau Cokanauto said preparations for logistics, food and billeting, were well under way.
There are 50 villages within the Bau Circuit and they will look after the 925 delegates in terms of hosting (billeting), food and transportation, said Ratu Tu'uakitau.
The conference will be opened with a soli by the Rotuman people and the choral competition starts after the official opening, he said. [See appeal for contributions from Project Manna]
The choral competition will be held at Ratu Cakobau Park one and two and we are looking at 900 choirs at the moment.
If the number of choirs taking part increases, we will look for another venue within close proximity because we don't want the competition to finish late, like in past years.
He said majority of the support staff for the delegates would be arriving in Bau a week before August 18, when the conference opens.
He said there were two committees involved in the preparations of the conference, one to look after what takes place in Bau while the other to take care of all other details.
---
From Fijitimes Online (11 June 2006)
Rotumans gather as one for their carnival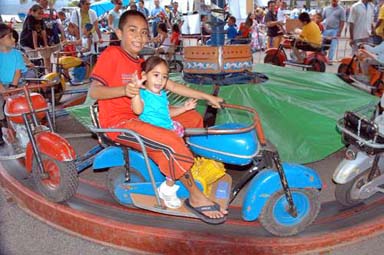 Brother and sister Jacob and Marilyn Sai of Oinafa, Rotuma take a ride at the Rotuma carnival
THE Rotuma Carnival was a success and there were calls by Rotumans for it to be made an annual event because of the good response.
Organising committee member Jieni Ravai said the idea behind the carnival was for Rotumans to unite and for the younger generation to be aware of their culture and tradition.
"This is a celebration carnival to mark the deed of cession," she said.
Ms Ravai said there was a display of culture and traditional items during the carnival with good response and turnout from all seven districts.
The inaugural event was aimed at uniting Rotumans in Fiji and raise awareness of their culture and tradition among the younger generation.
Senator Dr John Fatiaki opened the carnival on Friday, where he spoke on the importance of Rotumans looking back at what their ancestors had requested when ceding their island to Great Britain and that was to be united.
All seven districts of the island set up stalls at the carnival and sold various food items from cakes and pie to lovo and the Rotuman delicacy fekei.
Attempts to get the amount raised during the carnival were unsuccessful.
Note: This is the first indication we have had that Dr. John Fatiaki has been appointed Senator by the Rotuma Council.
---
From Fijilive (10 June 2006)
Rotumans celebrate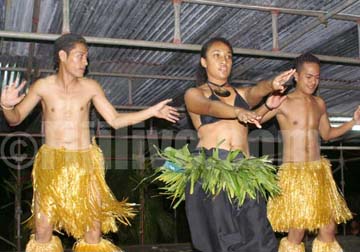 Dancers perform a traditional Rotuman dance
Dancers perform a traditional Rotuman dance Festivities continued at the Suva Foreshore today as the Rotuman community in Fiji celebrated 36 years of Independence from Great Britain.
The seven districts of Rotuma came together to celebrate their identity with their traditional dance, artwork and food.
Elderly women dressed in their colourful, traditional attire enjoyed the fine weather with their families.
Rotuma's Senate representative Senator Doctor John Fatiaki said the objective of the celebrations was to mark the 125th anniversary of cession.
Celebrations end tonight.
See Fiji Government's Rotuma Day Page (pdf 8.7 mb)
---
News from Bruce Tizard-Varcoe in London (10 June 2006)
William Panapasa is playing for Fiji Under 21's at the World Championships in France. William played for the Fiji Under 21's Rugby Team against England Under 21's at the IRB (International Rugby Board) U21 World Championships, which started yesterday (Friday 9th June) at the Stade Louis-Darragon in the town of Vichy, and despite scoring the first try of the match, Fiji went on to lose by 34 points to 8. Fiji's next match is against Australia on 13 June.
---
From Fijitimes Online (10 June 2006)
Call for unity
From left - Maria Mausio, 22, and Manu Pranjivan, 19, at the Rotuman Carnival in Suva yesterday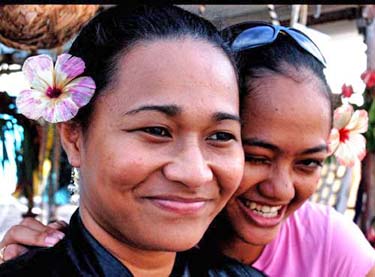 From left - Maria Mausio, 22, and Manu Pranjivan, 19, at the Rotuman Carnival in Suva yesterday
ROTUMANS should endeavour to remain united, work hard and continue to take pride in their culture and traditions.
This was the message from Doctor John Fatiaki, an executive member of the Fiji-Rotuma Association, who opened the inaugural two-day Rotuma Carnival in Suva yesterday.
Speaking in Rotuman, Dr Fatiaki referred to the inscription on the cession stone in Motusa.
On it, Rotuman forefathers advised future generations to be "honest and hardworking" and to "unite and work together," explained organising committee member Jieni Ravai.
Rotuma's representative to Parliament Jioji Konrote could not open the carnival because the House was in session. He will close the carnival today.
Yesterday despite the delay in opening, food packs and fekei, a Rotuman dessert, were sold out by noon.
All seven districts have erected stalls to display handicraft and sell food.
"About 500 Rotumans have passed through the carnival and we expect more tomorrow (today) because many have work and other commitments to attend to today," Ms Ravai said.
Present at the carnival was former Minister for Information Marieta Rigamoto, who was enjoying the music at one of the stalls.
---
From Mika Taito in California (8 June 2006)
Last Saturday, 3 June, The Seven Stars of Rotuma Association held their meeting & kati at the residence of Pedro & Makereat Rigamoto.
The Seven Stars of Rotuma was formed on Saturday, 6 June 1992 by Rotuman families living in the San Francisco Bay Area of California (Moeava & Betty Osotonu, Emeli & Bill Hay, and Pedro & Makereta Rigamoto).
Subsequently The Seven Stars of Rotuma Association extended its membership to Rotumans living outside Bay Area.
Our current members are:
Moeava & Betty Osotonu
Mereana & Joel Gibson
Maureen & Toelau Tanuvasa
'Aitu & Bruce Richmond
Makereta & Pedro Rigamoto
Yvonne & Peter Sunia Mafileo
Marieta & Pene Samisoni
Murphys ( Joe, Francis, Jonathan, Lauren) Makrao Mario
Kapani Elaisa
Brigitte & John Kafoa
Mika Taito
Kamoe Fonmanu
Rejieli Lilino
Lia Taito
Mere Vaurasi Pene
We have celebrated Rotuma Day every year since the Association was formed. The Association's next meeting will be held at 2pm Saturday, 2 September, at the residence of 'Aitu & Bruce Richmond in Las Lomas, California.
---
From Fijitimes Online (8 June 2006)
Rotumans to host carnival
THE inaugural two-day Rotuma Carnival will begin tomorrow at the Suva foreshore.
The Rotuman Carnival 2006, the brainchild of the Fiji-Rotuma Association, is to promote unity among Rotumans in Fiji and more importantly, raise awareness of Rotuman culture.
Jieni Ravai, one of the organisers of the event, said the promotion of Rotuman culture was largely geared towards the younger generation.
We want to set awareness to our youths and to revive our tradition. We have a lot of talents and we are trying to maintain this with this celebration, said Ms Ravai.
The two-day affair will be held at the Civic Auditorium car park and is open to members of the public.
Rotumas representative to Parliament Jioji Konrote, who is the Immigration Minister, will be the chief guest at the event which has the theme: Rotumans United in Cultural Celebration and Reconciliation.
Ms Ravai said the carnival was also an avenue for the various Rotuman districts to raise funds for their various projects.
Committees of the seven districts are expected to set up stalls to sell food and various items. The association hopes the carnival is a success so that it paves the way for more meaningful celebrations for Rotumans in future. In the past, Rotumans in Fiji only had the annual May 13 celebrations which involved a day of feasting and display of cultural items by the various districts.
Free medical checks and fun activities have been organised for the children. A team from the police force will also be speaking on important issues like drug abuse.
The program for tomorrow will start at 10am with an opening prayer followed by Mr Konrotes address. It will feature traditional dances by the Noatau, Oinafa, Itutiu and Malhaha communities and free medical checks by a team of nurses will be made available.
On Saturday the programme begins at 9am and will include childrens activities and the remaining districts performances.
One of the main features of the day will be the Rotuman games, which will include basket weaving and coconut climbing competitions.
---
News from Bruce Tizard-Varcoe in London (6 June 2006)
The Land Has Eyes screens in London
The October Gallery (an art gallery dedicated to the appreciation of art from all cultures around the world) in Bloomsbury, London, was the latest venue for a screening of The Land has Eyes, on Friday, 12 May. The screening was watched by about 30 to 40 people (the majority being non-Islanders) and introduced by the gallery director, Chili Hawes.
After, we all met in the exhibition area of the gallery, where Epeli Hau'ofa and the six artists of 'The Red Wave Collective' from the Oceania Centre in Fiji exhibited paintings from Fiji, Solomon Islands, and Tonga. Their exhibition runs from 11 May to 24 June.
---
News from Bruce Tizard-Varcoe in London (6 June 2006)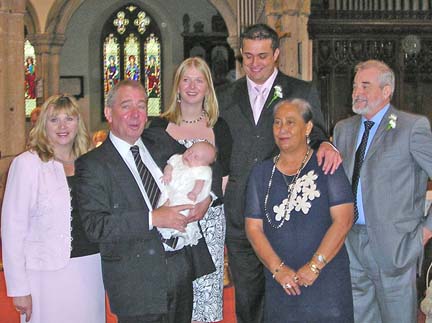 Henry Simpson with parents and Grandparents
The christening of Henry, first child to Nigel and Rebecca Simpson, took place on Sunday, 21 May 2006 at St Mary's Church, Plympton, Devon. Nigel's parents, Tippy and Ian, flew over from Fiji and the gathering of family and friends after the christening was held at Hardwick Farmhouse, Rebecca's family home.
Despite being born earlier than expected (17 March), Henry has made remarkable progress in the weight department; his father believes that Rotuman genes are responsible!
---
From Fijitimes Online (2 June 2006)
Rotuma to name nominee
THE Rotuman Council on the island will decide the Senate nominee for the Rotuma seat in the Upper House, says Misau Fatiaki.
He said the Rotumans living in Fiji did not have a say on who would be appointed as senator and they did not know anything.
"Once an appointment is made by the Rotuman Council whose members are chiefs from the villages, the nominee will be taken to the President's Office for him to endorse. That will be done before the joint sitting next week," he said.
During the Great Council of Chiefs meeting at the Raffles Tradewinds Convention Centre yesterday, one of the members questioned the chairman, Ratu Ovini Bokini, why Rotuma was not included in the list of nominees from the 14 provinces.
The member asked why the Rotuman member was not included in the GCC meeting of nominees, of which they were members .
Council secretary Asesela Sadole said under the Constitution, the President would be consulted on the 14 names that had been nominated by the provinces to be endorsed.
He said Rotuma was not included and they would nominate their member and send their nomination to the President to endorse it.
Meanwhile, the GCC emergency meeting yesterday was a transparent and milestone one when members of the media were allowed to sit in until the announcement of the Senators. The media were allowed to take notes during the opening of the meeting but were asked to leave while other issues were discussed.
---