From Fiji Times Online (24 May 2007)
Makrava keeps ancient art alive
by Jona Bola
Confucius once said: Everything has its beauty but not everyone sees it.
That clearly depicts a woman who has fallen in love with the beauty of her culture and heritage that most have chosen to forget.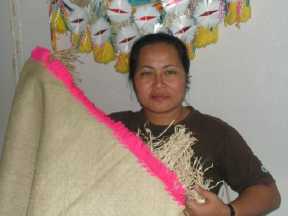 Makrava Luisa Ragafuata with an apei she wove
Makrava Luisa Ragafuata was born in the village of Tuakoi, in the district of Ituti'u, on Rotuma, and her love for traditional art has given her the urge to explore it further.
She was surrounded by the gifts of nature that make her island renowned for its beauty and glorious sandy beaches.
Growing up on the island, it was normal to see her mother, aunts and older women sitting in a line and weaving the apei.
The apei is the most prized mat in Rotuman culture, woven from the leaves of a special pandanus that grows on the island.
One can only admire how white the apei is on seeing a completed mat.
It almost looks like it was oiled while being woven.
Makrava was lucky because she was introduced to learning the art of weaving at the age 13.
"My mother made me sit down and asked me to weave a mat that was smaller than ordinary mats.
"It was hard but I tried my best to learn," Makrava said.
At 18, Makrava wove her first apei, and to the family's surprise it was as beautiful as the ones her mother usually wove.
Today, Makrava is among the best Rotuman weavers in country.
This has not gone unnoticed as the Department of Culture and Heritage supports her work to perfect her weaving skills and at the same time develop it with a modern touch.
"I left Rotuma at the age of 21 for Fiji in search of a job," she said.
"I worked for about 10 years at the Leyland's butchery and one day I decided just to stay home and try weaving again."
She admits trying weaving again was just as hard as when she started but she overcame all that because of her passion for traditional art.
"I believe that things will be easy if we have the heart and passion for it," she said.
"For me, I know that I love to weave and that itself was a great boost for me, because I enjoy seeing the end product," she said. Now, Makrava weaves at her Charles Street home, in Toorak, Suva, where she is helped by her two sisters and a cousin.
"I am always telling my sisters that they will not be able to grasp this traditional art if they do not have the heart for it," she said. Makrava said she had not regretted leaving her job for weaving.
"I knew that learning and developing the art that I was taught when I was young is important to me personally.
"With the assistance of Rigamoto Nakaora, who is coordinating the revival of Rotuman art, I am able to develop my talent and weave more mats," she said.
Makrava said through research she was told the finest mat to be woven on Rotuma by island women had 36 strands an inch, was very fine and soft.
She said she would one day try and weave a similar mat because if women at that time were able to weave such a very fine mat, there was no reason why she and her sisters could not do the same.
"I consider myself very lucky to be taught the art at a young age and to have continued with it.
"Most young girls would have been taught the same art but as soon as they leave school for work they are no longer interested in such activity," Makrava said.
Makrava said young girls should be encouraged to learn traditional art and craft because it was a god given identity.
"Talents are given by God and we should make good use of it," she said.
---
Island Legacy: A History of the Rotuman People, by Alan Howard & Jan Rensel, is now available at Amazon.com. The price of the paperback edition is US$21.78, a significant discount from the retail price of $33. The hardcover edition sells for $36.
---
From Fiji Times Online (23 May 2007)
Rotumans revive art of weaving mat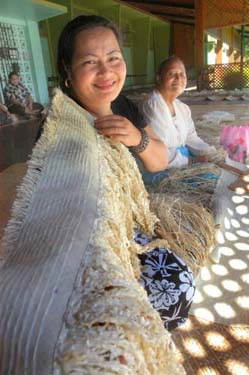 Rotuman weavers Makrava Luisa Ragafuata, left, and Ana Ritoviko show the finely-woven mats theyre weaving at the Fiji Museum.
TWO Rotuman women met at the Fiji Museum yesterday in an effort to keep the island's traditional mats from extinction.
With the assistance of the Department of Culture and Heritage the Rotuman women set out to weave grade one fine mats which are specially woven for chiefs. They will also be teaching interested individuals on how to master the art of weaving fine mats.
Project officer Semi Buwawa said the project was to keep the art of fine mat weaving alive with the upcoming Rotuman generation.
"Many Rotumans have forgotten how to weave these kind of mats but our aim is to revive the art. The display here today is also in preparation for the Rotuma Day celebrations which will be held in Nadi," said Mr Buwawa.
The mats which Mr Buwawa was referring to were of the third grade of fine mats by Rotumans which was on display at the Fiji Museum foyer.
Mr Buwawa said in their effort to keep traditional skills of Fijians and Rotumans alive, they had organised projects to draw the younger generation to the older ones who would in turn impart their knowledge to their brood so it would not die away.
"It is very important that we keep these kinds of skills and arts alive, because this is our identity. It identifies where we come from. These skills can earn income for the maker or the weaver."
He said once a traditional skill was acquired it could be beneficial to the individual. He said a finely woven third grade Rotuman mats could be sold for up to $5000.
---
From Arnold Jacob in Lautoka (20 May 2007)
The Rotuman Community in Lautoka, celebrated Rotuma Day on Saturday, 19 May 2007. The celebration theme was "Rotuma 'Otou Hanue."
Fa Hue'ta Kikorio Ralifo officiated the day with a prayer of dedication and thanksgiving to God for the Rotuman community here in Lautoka and around the world. Guest speaker for the day was Mrs Nina Hanfakaga (retired Senior Matron of Lautoka Hospital) who spoke briefly on the values of Rotuman heritage and it's significant role in the lives of our young generation.

The Itu Hifu committee organized morning tea whilst Itu'muta and Noa'tau jointly hosted everyone with a kou'a lunch.

Mixed volleyball was played with each Itu'u fielding a team. Defending champions Pejei took out the winners trophy for yet another year; however the highlight of the celebrations was a Itu Hifu tautoga, which is a distinct feature of our Rotuman culture. Fa Pu'er ne Itu'muta, Kitione Etika, also handed the chairmanship of the Itu Hifu committee here in Lautoka to Fa Pu'er ne Noa'tau, Tomasi Penjueli.
For those of us who were part of this year's celebrations, it was an oppotune time to reiterate the values of our Rotuman culture.
---
From Mika Taito in California (20 May 2007)

Rotuma Day 2007 was over with great success. Our Chairman of the Seven Stars of Rotuma & members wish to extend our sincere gratitude to everyone present on Saturday, 12 May.

'Ua'aki leouf se te' ne Gagaj ne po ma na 'omus ava ma leum ma 'is teag'esea 'e teran ta:

Mrs. Sarote Tolo from Kearns, Utah (Noa'ia 'e a'sok ne far te ne Seven Stars la saea kato'ag ta ma na sio ta vaeag koroa rauraut)
Mr. Suakvae Faragke & family from Spokane, Washinton State
Mr. Fesa'itu Samuela & family , Paul Weber all from Missoula, Montana
Mrs. Margaret Murti from Killeen, Texas
Rev. Mua Vamarasi & family from Chicago, Illinois
Sister. Leotina Feasa'itu from Hanford, California
Mr. Kerese Kaitu'u & family from Kingston, Jamaica
Mrs. Patricia Sosefo Reimer & family from Manitoba, Canada
Mrs. Sophia Turaga & family from Laie, Hawaii
Mrs. Lilian Ralp & family from West Valley, Utah
Freddy Tigarea & family from Menlo Park, California
Maira Tolo Timoteo & family from Las Vegas, Nevada
Fanny Kaitu'u from Seattle, Washington State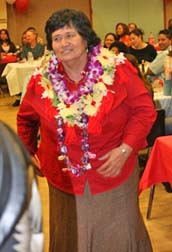 Honored guest, Sarote Tolo
Also we would like to thank other Pacific Island communities for their support.

'Ua'aki leouf se all members ne Seven Stars ne po ma haisoagan kato'ag ta. We extend our thanks to Makrao Mario (purot ne maka 'e fau te') also the MC for this year's celebration, Dr. Bruce Richmond, and not forgetting the wonderful DJ Pita SuniaMafile'o and the boys from Maliha Band.

Se te' ne Gagaj Rotuam ne North America ne kat po ra la teag'esea ma Seven Stars 'e fau te', 'amis 'airot'ak ne 'is 'atakoa la haipoag se Seattle, Washington State, for Rotuma Day 2008.
---
From Fijilive (12 May 2007, posted 16 May)
Rotumans celebrate day of cession
Rotumans living in Fiji and the Island of Rotuma today celebrated to mark Rotuma's cession to Great Britain in 1881.
As there are more people of Rotuman descent outside Rotuma than on the island, celebrations are held in other centres besides Rotuma, with big events in Suva and Lautoka.
During the celebrations Rotumans from all seven districts dress in their colourful outfits perform the maka (traditional dance) before the crowd.
This year, the elders who attended the celebrations at Marist Brothers High School emphasised the need for all Rotumans to gather in one place rather than celebrate the occasion separately.
---
From Fiji Times Online (14 May 2007)
More money needed for Rotuma boat
Rotumans in Fiji need more help to make their dream come true.
Paserio Samisoni, representing the islanders, said $16,000 was collected from the celebrations of Rotuma Day on Saturday but it was far from what was needed for their project.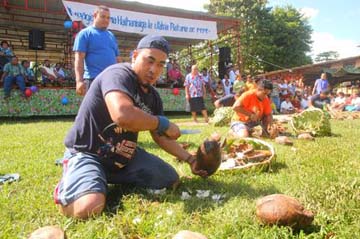 Jone Sakias of Itumuta district competes in cutting copra during Rotuma Day celebrations on Saturday at Flagstaff
The dream is to buy a boat to make transportation to and from Rotuma easier. Mr Samisoni said there was an urgent need for a boat.
"It would be up to the community how they support us. We cannot set a target and start collecting. Having a boat is our priority but we know we have to take things slow.
"A big amount would surely be needed and at the moment we have raised a small amount."
Mr Samisoni said the whole of Rotuma and those living in Fiji would benefit from the success of the project and they were hoping to have meeting on the matter with the concerned authorities.
"Having a boat of our own is a necessity and it would be hard to raise a large amount because people of Rotuma are mostly subsistence farmers.
"We hope to get some positive feedback," said Mr Samisoni.
Money raised by the seven districts would be handed to the Fiji Rotuma Association which looks after the welfare of Rotumans.
---
From Fiji Times Online (13 May 2007)
Shalom's special day
We were fortunate to have a delegation from Brisbane in Australia join us for the celebration at the Marist Brothers High School ground in Flagstaff and their performance was awesome.
They made the locals seem like amateurs when they performed the hafa (Rotuman dance).
What caught my eyes, apart from their excellent performance, was the make-up of their dance costumes, the whole lot of them.
It was very traditional. They were the most traditional Rotuman outfits I had seen in a while.
We, the people of Malhaha, got to do our bit and there was a stronger link displayed among members of our Rotuman community.
Although we are a small community, the outcome of events such as yesterdays will see other communities recognise our music and dance as a form of identity.
Traditional music and dance can be sustained and will always be meaningful to any community big or small.
The depth of understanding traditional Rotuman forms of cultural value, cultural identity and understanding who we are was obvious as I watched the various traditional performances.
Such atmosphere and activities are normally seen and witnessed during celebrations, especially a wedding.
Shalom Tuatoko with her bridal party and her father, Alfred, at Sheraton Denarau.

One such event was the wedding of Shalom Tuatoko and Cliff Te Amo which was held at the exclusive Paradise Chapel of the Sheraton Resort at Denarau in Nadi.
It was an example of traditional forms at their best.
The Rotuman ceremony sope was performed by Shaloms sigoa or namesake, Deaconess Olivia Nataniela, and it was quite moving.
Shalom is the only daughter of Alfred and Rave Tuatoko.
She works for the United Nations and is stationed at the UN mission in the ancient city of Khartoum in Sudan.
Shaloms family comes from Malhaha, where I come from as well, and it was a pleasure putting the bridesmaids outfits together.
Her stunning off-the-shoulder gown was made of ivory pure silk satin.
The curved neckline featured ivory French Alencon lace decorated with Swarovski crystals and pearls.
The skirt featured an insert of tulle at the side and was appliqud with French Alencon lace.
This wedding gown was designed and put together by one of New Zealands top designers, Jane Yeh.
She was also responsible for designing and putting together the bridal gown for Jonah Lomus bride (Fiona) as well as former All Black Carlos Spencers wifes bridal gown.
For me, it was an honour to put together the three bridesmaids silk gowns, which were olive green.
Shaloms bridesmaids were her cousin as well as friends from the UN head office in New York.
Family members and friends from as far as South Africa, the Middle East, the United States, Canada, Australia and New Zealand gave the wedding a cosmopolitan touch and made it more special.
I was told Cliff gave his speech in English, Maori and Rotuman, much to the guests amazement.
Local music, food and beautiful weather complemented the occasion and I am privileged to have been part of this special celebration.
_________________
Photos from the wedding (originally posted in January 2007)
---
From Fiji Times Online (13 May 2007)
ROTUMANS in Fiji are keen to raise funds for their transportation to and from Fiji.
Shipping is a major problem for Rotumans travelling to the island and Paserio Samisoni, a spokesman, said they were hoping the State would do something about but they had to take the initiative themselves.
Shipping is our major concern and we want to solve it by having a boat of our own.
Our people are facing great difficulties when it comes to travel to Fiji and collecting funds for this is our major project this year, said Mr Samisoni.
The total amount needed has not been determined but it would depend on how much was collected.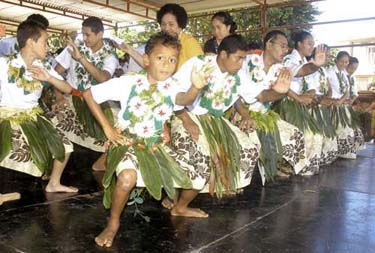 Peter Munivai of Itu'ti'u (eyes to the camera) takes part in a traditional Rotuman dance at their Deed of Cession celebration at Marist High
With the aim at the back of their mind, Rotumans celebrated their Cession Day yesterday at Marist Brothers High School.
It was a lively atmosphere as members of the seven districts came together. Mr Samisoni, who was master of ceremony, said May 13, 1881 was when Rotuma was ceded to Great Britain. He said it was important for Rotumans to be part of the occasion.
A group of 86 Rotumans living in Brisbane were special guests.
We want every Rotuman on this earth to be involved. We are celebrating this because we have to maintain the pride of being a Rotuman, he said.
The ceremony was full of traditional dances, songs and games such as basket weaving and coconut husking.
Mr Samisoni said losing their identity was something they did not want to happen.
There are celebrations in Rotuma and we are raising funds for projects in the villages but the main one is for a boat.
Funds raised by the seven districts would be submitted to Fiji Rotuma Association which looks after the welfare of Rotumans in Fiji.
---
From Fiji Times Online (9 May 2007)
Interim ministers visit Rotuma
INTERIM Fijian Affairs Minister Ratu Epeli Ganilau and interim Minister for Social Welfare and Women, Housing and Squatter Resettlement Adi Laufitu Malani left for a week-long tour to Rotuma on Monday.
Ministry official Kini Rarubi said the team left on the Government vessel Iloilovatu at midday.
"Ratu Epeli and Adi Laufitu will be there for the opening of the Provincial Development Council and the Rotuma Day celebrations before they return on Monday, May 11," Mr Rarubi said.
He said the trip had been anticipated by the villagers and the two interim ministers were privileged to be part of the festivities.
Mr Rarubi said the island would also end its national youth day celebration this week.
He said other Government officials who were part of the trip would identify problems on the island and report to their respective ministries when they return.
---
From Victor Jione Fatiaki in Suva (8 May 2007)
The programme for the "Fiji Rotuman Association" (FRA) Rotuma Day celebration has been set. The members of this association consist of the following:-
Suva seven districts
Nadi
Lautoka
Vatukoula
This association was registered in 2004 with its own constitution and secretariat.
This year we have about 70 Rotumans from Brisbane coming over to take part in the celebration.

Hanisiof,

Victor Fatiaki
Vice- Chairman
Fiji Rotuman Association
---
From Frances Murphy in Ypsilanti Michigan (7 May 2007)
Jonathan William Murphy, the son of Frances and Joseph Murphy of Ypsilanti, Michigan and the grandson of Faga and John Sagaitu, formerly of Lautoka. received his BA on Saturday, 5 May from James Madison College at Michigan State University. Jonathan majored in political theory and constitutional democracy with a specialization in African Studies. Jonathan plans to start graduate school next year.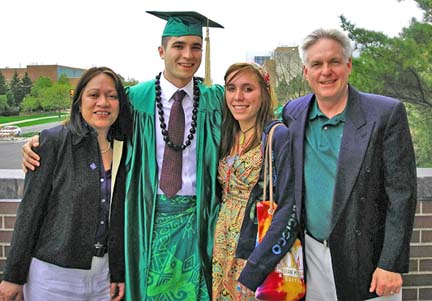 Jonathan with his mom, Frances; his sister, Lauren; and his dad, Joe
It was a busy day for this graduate, who also received his commission as a second lieutenant in the United States Air Force. The oath of office was administered by his father, Commander Joseph Murphy, U.S. Navy Reserve. Jonathan will begin his Air Force career in July. He will be in stationed Columbus, Mississippi, and will be working in personnel administration.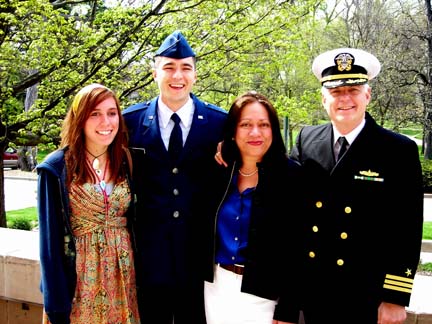 The Murphy family: Lauren, Jon, Frances and Joe
Jonathan now looks forward to celebrating Rotuma Day in California with The Seven Stars of Rotuma Club. After this, he will be arriving in Fiji to visit his family.
---
From Monifa Fiu in Suva (7 May 2007)
An ecological risk assessment report has been prepared for the derelict vessel Bulou ni Ceva. The report has been given to the Oinafa Suva district reps who will be accompanying a government delegation to Rotuma for the May 13 celebrations on the island. It is with great hope this report is a supporting document for the people of Oinafa to lobby for the removal of the boat at Oinafa Bay.
---
From Fiji Times Online (6 May 2007)
FIJI men's badminton champion Burty Molia continued to dominate the local scene after clinching the Fiji Games gold medal at Yat Sen Hall yesterday.
Molia looks to be a certain starter on the national team to the South Pacific Games in Samoa winning the men's singles title.
Representing Rotuma, Molia beat Suva's Ghee Ming Fong in two straight sets 21-19, 21-11.
The fight for the bronze between Ahmed Ali of Rotuma and Andy Wong of Lami had to be cancelled.
Wong withdrew for medical reasons leaving the Ali to earn a bronze medal for Rotuma...
However, Molia and Whiteside could not win the mixed doubles event after losing to Ali and Damien Ah Sam 22-20, 14-21, 21-12.
Both teams came through pool play undefeated.
Molia and Whiteside topped Pool A while Ali and Ah Sam won Pool B....
___________________
SAINT Joseph's Secondary School student Frentina Antrea continued to dominate the women's local chess scene after clinching two gold medals at the Fiji Games.
The two-time Fiji Games gold medal winner and women's champion, who represented Rotuma, won the blitz and radick events.
She beat veteran player Gloria Sukh of Lami in both finals. Rachna Ram of Nadi settled for bronze in the two events.
---
From Olav & Sofie Arnsten in Norway (4 May 2007)
We are back from Fiji, but unfortunately we could not get to Rotuma. The airstrip was watersoaked and planes could not land. The flight scheduled for week 12 had been cancelled, our flight in week 13 was cancelled and I believe the first flight that left was in week 17.
According to John Bennett, the cause of the problem is a moss or algae that grows in between the grass; it retains water and makes the airstrip slippery. To scrape the top layer of grass and moss off from the strip can be done with manual labour; no special tools or machines are required, but for whatever reason this is not being done.
---
From Alan and Jan (2 May 2007)
We are pleased to announce the publication of our book, Island Legacy: A History of the Rotuman People. Purchasing information can be obtained from the Trafford Publishing website. The paperback version of the book retails for US$33, but it may be sold at a discount by amazon.com (it may not be listed on Amazon's website for another month or two). A hardback edition will be available sometime soon at a retail price of US$36.
All royalties from sales of the book with go to the Elizabeth K. Inia Scholarship fund to support high school students from Rotuma to attend school in Fiji in preparation for attending university.
A book-launching ceremony will be held on Friday, 11 May, at BYU-Hawaii Aloha Center from 4 to 6 p.m. as part of a Rotuma Day celebration. The event, co-sponsored by the Pacific Island Studies Department and the Pacific Institute at BYU, has the theme of "Rotuma in the Pacific." In addition to the book launching, Vilsoni Hereniko will screen and discuss a segment from a DVD concerning the making of The Land Has Eyes.
---
Jennifer & Mom
From Rina Antonio-Jang in Suva (2 May 2007)
On Friday 27 April, the University of the South Pacific had their graduation ceremony at the Vodafone Arena here in Suva, Fiji. Jennifer Jione, daughter of Fasiu and Elsie Jione, graduated with a bachelor of arts degree majoring in tourism and management.
After the ceremony, her family hosted us to a celebration dinner at her home in Samabula.
We would like to congratulate and thank her for this great achievement. Jennifer now works at the University of the South Pacific in the Business Change Team as a project assistant.
---
---