December 2019, Broderick Mervyn [Youngest Rotuman to receive the Medal of the Order of Fiji (MOF)]
Mr. Broderick Mervyn was awarded the Medal of the Order of Fiji at an investiture ceremony that took place at the Fijian President State House.
Mr. Mervyn received this medal for his services to youth and community development in Fiji and abroad and he becomes the youngest Rotuman recipient to receive this high honor. There have been six recipients that have received this honor and these include the late Deaconess Olivia Nataniela, former Rotuman parliamentarian Fatiaki Misau and the President of Fiji, His Excellency Jioji Konrote.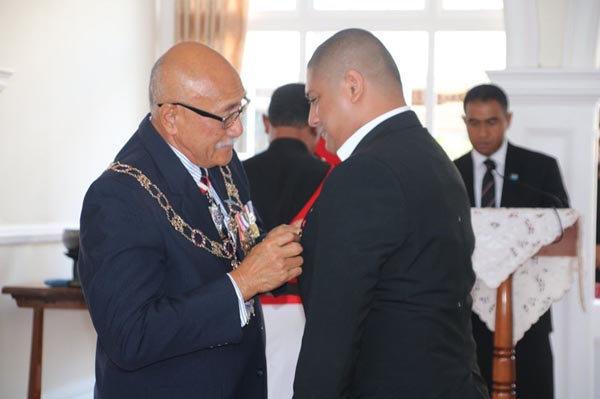 ---
January 2018, From Health Research Council of New Zealand Newsletter Update.
We congratulate Dr Ofa Dewes who has been appointed Chair of the Pacific Health Research Committee after serving on the committee for a year. Ofa Dewes is an Affiliate Investigator of the Maurice Wilkins Centre for Molecular Biodiscovery, and Research Fellow at the School of Nursing, University of Auckland. Among her many projects, she is currently leading research into older Pacific people's experiences in palliative care, as well as researching the differences in fructose absorption among Pacific adolescents.
---
1 September 2017, Josann Pene among the 36 new lawyers who were admitted to the Bar before Chief Justice Anthony Gates at the High Court in Suva. See article in Fiji Times Online.
---
21 December 2016, Dr Ofa Dewes has been awarded a NZ$450,000 grant to explore the needs of Pacific older adults at the end of life. Read full account from Reason Magazine, published by the School of Nursing at the University of Auckland.
---
1 November 2016, Rejieli Tiporotu celebrates her 90th birthday in Suva.
---
8 March 2015, Second Officer Vanika Itautoka recently completed her training at Airbus Facilities in Beijing, China and Singapore to obtain her Airbus A330-200 second officer rating. She joined Fiji Airways in September 2014. Born in Suva, she started school at Veiuto Primary School, completing high school at Suva Grammar School.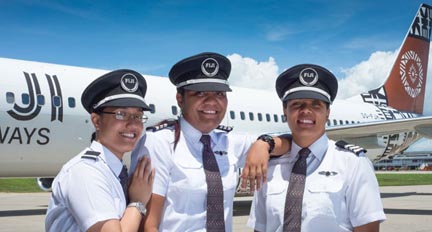 Far Left - Vanika Itautoka
---
Ofa Dewes Appointed To Whānau Ora Regional Group
A total of six community leaders in health and social services as well as whanau and community development have been appointed to the Tamaki Makaurau (Auckland) Regional Leadership Group (RLG) for Whānau Ora.
Dr Ofa Dewes (Rotuman, Tongan, Tuvaluan, Ngati Porou) was born and raised in Fiji and has a public administration and business management background. Currently a researcher at Auckland University's School of Population Health, Dr Dewes has worked extensively in the public, private and international sectors.
Whānau Ora is an inclusive interagency approach to providing health and social services to build the capacity of all New Zealand families in need.It empowers whānau as a whole rather than focusing separately on individual family members and their problems.
---
On Friday, 2 March 2012, Christian M. Rafoi was inducted as Head Boy at the PIRS Chapel, next to Stella Maris Primary School.
---
On 7 February 2012 three Rotumans—Tarterani Rigamoto, Paulo Taito & Voi Garsau—were sworn in as Justices of the Peace along with 21 others before Chief Justice Anthony Gates at the Old Gov't. Bldg. in Suva
Rotuman JPs: Tarterani Rigamoto, Voi Garsau and Paulo Taito
---
Congratulations to Seforana.Kauata and Lesi Vakacagicagi on their engagement, 20 November 2011
Best wishes from Alfred family in Suva and Vunimaba family in Lautoka. God bless.
---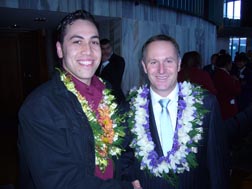 Mark with Prime Minister Rt Hon. John Key
Mark Dewes, who graduated last year with a Bachelor of Fine Arts from Elam, University of Auckland, is the recipient of the 2011 PM's Pacific Youth Award for Creativity which will provide him with a year's internship at the Weta Workshop in Wellington. Mark is the grandson of Milly and Iakopo Panapasa of Noa'tau.
Dr Colin Tukuitonga, Chief Executive of the Ministry of Pacific Island Affairs introduced Mark as "born in Fiji, he is part-Tongan, Maori, NZ European, Rotuman and Tuvaluan; Mark is the ultimate Pacific Islander."
---
From Weta News (18 February 2013)
Much of the great feedback we're getting from visitors to our Window into Workshop attraction is thanks to our wonderful hosts, like Mark Dewes.
A Weta technician on The Hobbit: An Unexpected Jjourney since 2011, Mark has worked in many of the departments at Weta Workshop. He secretly confesses that the painting department is his favourite, but he has a wealth of knowledge of all that goes on inside the workshop.
Mark learned on the job and has an easy-going style of explaining how the movie magic is created. When he showed us around, there were also guests from Germany, Malaysia, England, Scotland and the US in the group, so it's certainly an international crowd that Mark and his colleagues get to meet.
We currently have seven Weta Workshop technicians hosting groups through this very tactile and interactive tour. You get to feel the materials, talk to artists, get behind-the-scenes insights and if you're lucky, there may just be something going on in one of the windows...
---
U.S. Airforce Lt. Jon Murphy, son of Frances and Joseph Murphy of Ypsilanti, Michigan and the grandson of Faga and John Sagaitu, formerly of Lautoka, was promoted to Captain on June 11th, 2011. Captain Murphy is now serving as the Chief of Protocol for the 39th Air Base Wing in Incirlik, Turkey. Well done Jon.
---
On Friday, 4 February 2011 three Rotumans--Michael Fesaitu (son of Feskatoa & Maria Ravai), Raumanu Pranjivan (daughter of Harvey & Misau Pranjivan), and Kimberly Semisi (daughter of John & Rosie Semisi)--were admitted to the Bar of the High Court of Fiji.
L to R: Kimberly Semisi, Michael Fesaitu, and Raumanu Pranjivan
---
21 year old USAF Senior Airman ASUEGA, Margaret Ferei receiving her promotion certificate/3 stripes from Colonel Carlson, Hickam Air Force Base, Hawai'i, September 2010. Maggie is a Systems Administrator covering air and cyberspace communications from Alaska to the Indian Ocean and offering support to other branches of the military.
Maggie states, " Working in a male-dominated environment is challenging but interesting
and rewarding." She is the granddaughter of Makereta Ferei and the late Gagaj Lino Ferei
of Tuakoi.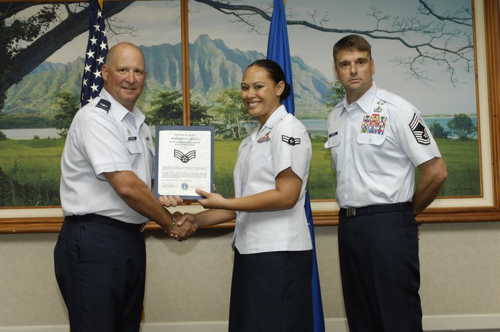 ---
Another milestone in the Aviation industry
Maria Munivai Wilson was born in Suva on 10 September 1982 to now retired medical officer Siriroa Simo (from Malhaha) and mum Luisa Elena Gabriel (from Juju). She attended schools in Wainunu Bua, Savusavu, Nausori and finally at the Nadi Muslim Primary & College in 2003. In 2007, she graduated with a Diploma in Electronic Engineering from then Fiji Institute of Technology. After obtaining her Aeronautical Maintenance Certificate (AMC) in October of 2008 she joined Air Pacific Ltd where she held the positions of Tradesman and Aircraft Maintenance Engineer.
 
In July 2010, Maria obtained her License from the Civil Aviation Authority of the Fiji Islands (CAAFI) to become Fiji's first female Licensed Aircraft Maintenance Engineer (LAME). Maria specializes in Avionics and she now looks forward to obtaining type ratings on the company's fleet comprising of Boeing 747, 767 & 737 jet aircrafts.
 
Maria is a younger sister of Christina Elena Naicker and Christopher Molia.
---