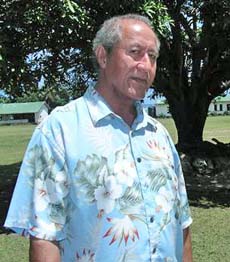 Jone Tanu
Jone Tanu died on 17 July 2021. He was principal of Rotuma High School from 1989 to 1994, and was reappointed in 2007 and served for several more years. He was lavishly praised by his ex-students and was nominated for the Pride of Fiji medal. For more on his life story
---
Reverend Emotama Misau Pene died on 30 August 2017 at the age of 71. See Obituary.
---
It is with a heavy heart that I, Mahini Rigamoto Amrutlal aka Mahendra Kumar and my brother Vinod, both born in Motusa, Rotuma where our family lived, contributed and gave all we had, to the people of Motusa and those Rotumans whom we came in contact with for over twenty years, wish to announce the sad loss and the passing away of our dearest mother Rukmani, on 24 August in Auckland, New Zealand. Noa'ia gagaj 'atakoa 'e mauri ma fai'aksia.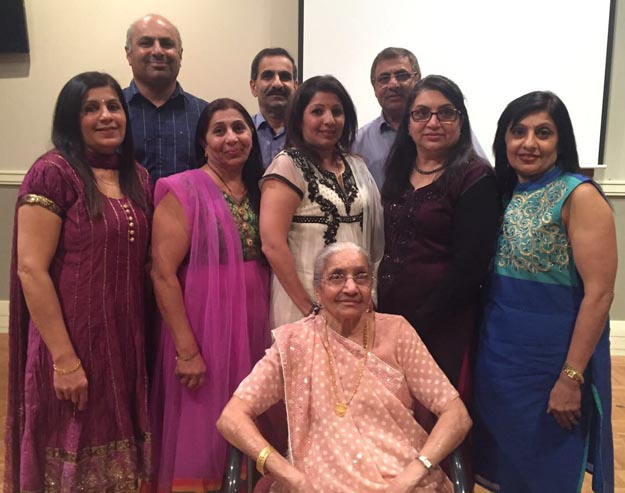 ---
It is with a heavy heart that my brother Matthew and I pay our respects one year to this day,
27 February 2017, on the loss of our beautiful grandmother Maggie Foster Leo.
Our grandmother was a woman of grace, strength and perseverance; a matriarch to our family who we will forever miss dearly. Matthew and I weren't fortunate enough to have seen her now as adults living in Australia, but we have been left with the beautiful memories of her taking care of us as young children when she would fly over to visit.
Our dearest Nanna we know you are watching over us from above and guiding us through life, please know that we miss you every day.

Hanisiof
Fanella and Matthew Leo
---
Marie Jessica Kerkham nee Foster/Probert
Marie Kerkham was born in Suva on 2 January1924 and died on 5 October 2014
in Palmerston North, New Zealand. Her mother, Sarah Foster, was born on Rotuma.
Her father, Desmond Probert, (who she never knew) was a New Zealander. Her maternal grandmother was Sapeti and her grandfather was Patrick Foster. She lived with her mother and sister at Sumi. At the age of 5 or 6 she left Rotuma to be educated at St Josephs in Suva. She married Onslow Kerkham of Dennison Rd., Suva after the war. They migrated to New Zealand in 1951. She has kainanga in Rotuma, Fiji and Australia.
---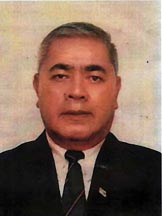 Fred Susau
August 1946 - 31 October 2014
Fred Mua Susau died on 31 October at the age of 68 years old. He was born in Ahau, Rotuma to Etika Susau (from Oinafa) and Tausie Emili (from Hapmafau). He was the oldest of six children, including a sister, Tupau Alfereti, and five brothers—Fuata Mareu, Varea Hae, Sopapelu Fesaitu, Vesanti Petero, and Taito Tuatoko. Rupeni Ravai was an older half-brother. His late wife was Emma Elisabeth Susau (nee Lestro), with whom he had five children—Marjorie Asenaca Susau, Agnes Sophia Wong, Dorris EmilySusau, Fred Robert Susau and Aliti Fanifau Koroi.
Fred attended Rotuma High School 1961–1963, and served as District Officer on Rotuma 1989–1992. He was awarded the Fiji Independence Medal in 1993, was made Justice of the Peace in Fiji in 2001, and awarded the Fiji Public Service Certificate for Meritorious Service in 2003.
A Thanksgiving Service was held for him at Churchward Chapel in Suva on 5 November 2014. The benediction was given by Fekau Mario Rigamoto.
For a more comprehensive account of his life, including an interview, click here
Photos from funeral taken by Antoine N'Yeurt
---
Rejieli Mere Cullen died suddenly on Friday the 24th of January 2014; aged 68 years. Much loved wife of Trevor. Treasured mother of Peter and Ida. She was the caring daughter of Harieta Mekatoa from Oilala in Motusa. Her father was Sakiasi Afreti from Losa. She will be forever in our hearts and deeply missed. She was much loved by her extended family and friends. Rest peacefully and God bless. A service to farewell Rachel will be held at the Papakura Wesleyan Methodist Church, cnr Dominion and Croskrey Road on Thursday the 30th of January at 1pm followed by burial at the Gatland Road Cemetery Papakura. All communications to the Cullen family C/- Fountains Funerals PO Box 72-341 Papakura 2244, (09) 298-2957 or agray@fountainsfunerals.co.nz
---
Maretoa Dickinson
December 1942 – 13 May 2012
We were very sad to learn of the death of Maretoa Dickinson on 13 May 2012, at the age of 69. Mare was born in Malhaha in December 1942 to Faserue Kitione and Mereana Tausia. She follows her brother Fonmanu, who passed away in November 2011 (see below).
Mare was a dear friend and hosted us for extensive periods when we visited Sydney. She also stayed with us when she visitied Honolulu. Her personal warmth and gradiousness were hallmarks of her personality and the basis of an extensive network of friends and relatives who loved her. She was a pillar of the Rotuman community in Sydney and helped to organize a wide range of events. She is one of those irreplaceable people who will be sorely missed.
Mare is survived by son Peter, daughter Viki, and three adoring granddaughters.
Alan & Jan
---
Harieta Katafono
May 1937 – 7 January 2012
Harieta Katafono died suddenly of a heart attack at her home in Hapmak on 7 January 2012 at age 74. She was born to Katafono Ferei and Fauoro Akata in May 1937. Harieta was an educator of note and a keen student of the Rotuman language. While at the Institute of Education at the University of Leeds in England during 1970-71, she completed "A Study of the Verb System of Rotuman and its Influence on the English of Rotuman Children." While serving in the Fiji Ministry of Education, Youth and Sport, Curriculum Development Unit, she pubished "A Teaching Guide for English Reading and Actvities in Class 4, Term III." She later headed the Fiji Exams Office where she served until her retirement in 1993. After her retirement to Rotuma, Harieta remained active and kept busy. She was elected by Itu'ti'u to the Rotuma High School Board of Governors in 1998 and served as its chair.
Mentor to many, a wonderful friend and loving individual, she will be sorely missed by all who were privileged to know her.
---
Fonmanu (Fon) Kitione passed away suddenly at his home on Tuesday, 1 November 2011, aged 65 years. His integrity, warmth and humbleness will be fondly remembered and greatly missed by his family, the extended Rotuman community, and all who knew and loved him. Beloved husband of Kerry, father of Lisa, Paul and Sally, loved father-in-law of Torsten and much loved grandfather of Patrick and Tess. Fon's funeral service was held on Tuesday, 8 November 2011 at the Samoan Assembly of God Church in Napier followed by a private cremation.
Here is my tribute to Fon:
"We came today as a family— a Rotuman family, to pay our respects to Fon. Fon has been our father, grandfather, uncle, friend, colleague, mentor and the rock of the NZ Rotuman Fellowship Incorporated, from the beginning until now.

We are grateful that Fon was always there for us at the right place and the right time. All the memories that we have shared with him will forever be cherished and remembered. Fon will always live in our hearts.

Words alone cannot heal the sadness and sudden loss of a kind and loving husband, father, grandfather, uncle, friend, colleague and mentor. What we say today is only an inadequate expression of what we carry in our hearts. Words pale in the shadow of grief; they seem insufficient to measure the brave sacrifices that Fon had made to bring together our NZ Rotuman people—later coined in the phrase of 'Rotumaness'. With Fon's assistance/guidance, Arthur Shaw, the late Rev Dr Langi and committee; the NZ Rotuman Fellowship Constitution was produced.

For his dedication and  commitment to the cause of bringing all Rotumans together, Fon travelled up and down the country to meet, greet and attend meetings and numerous Rotuman functions at his own volition for the betterment of Rotumans in Aotearoa.

Fon's extraordinary leadership in our NZ Rotuman communities has been an inspiration to many of us. His values were strong, they are timeless and will endure. May Fon rest in peace."

Mark Vaurasi
Chairman
New Zealand Rotuman Fellowship Incorporated
---
Born in Savaea, Itumuta, Rotuma on 20th September 1937. Called to eternity on 26th August 2011.


We would like to thank our families and friends who attended the funeral service of our mother, Sarote Fatiaki Monie on Wednesday 31st August 2011 at the Woronora chapel, Sutherland, in Sydney. Special thanks to aunt Noona Robinson, uncle George and Susau Foster, Aisake and Akanisi Konrote and their families, our extended families and friends, the doctors and nurses of St George and Calvary hospitals, for your care, love, and prayers. We will miss our mother, aunt and grandmother but we know that she is in a better place - John 14 : 1-7


A gift of $700.00 has been donated to the Cancer Council NSW to support ongoing research to find a cure for the various types of cancer that affect both men and women in Australia and across the world.


Faiak'sia e hanisi.

Pene Vafo'ou, Amoi Fereti, Zwingly Fuata & Owen Fuata and their families living in Australia and New Zealand.
---
Vamarasi Kava Viki died on Thursday 16 June 2011. His body was flown back to Fiji where he was buried in Vatukoula.
---
Milly Ama Panapasa, age 86, passed away on 25 March 2011. She was born in the Kingdom of Tonga, the oldest child of a family of 10. At the age of 21 she traveled to Fiji where she met and married her husband, Iakopo Susau Panapasa. Milly is survived by her children Jotama, Ofanaite, Sela, Sue, Maureen, Wallon, Horton, Doran, Benson, Carson, and Pauleen. Her grandchildren Roydon, Graham, Mark, Fuafanua Jr, Annette, Andrea, Jacob, Issac, Nathan, Joshua, Sarah, Anaise and great granddaughter Alexis.
Read full obituary and eulogies
---
From Sepa Vaurasi in Fiji (11 March 2011)
Kafoa Paulo Vaurasi
20 October 1935 to 13 February 2011

To family, friends in Fiji, Rotuma & abroad, work colleagues, Suva Private Hospital management and staff, Rotu and Hanua.

On behalf of our mother – Akanisi Vaurasi, please accept her sincere thanks for the messages of sympathy, comfort and gifts presented in memory of Kafoa Paulo Vaurasi.

Your thoughtfulness was heartfelt and deeply appreciated.

Your kindness has greatly eased the immense sense of loss and grief felt by our family.

Kafoa Paulo Vaurasi lived life to the full for he had faith in God, knowing that his name is already inscribed on the palms of the Lords hands. (Isaiah 49:16)

Wale Vaurasi, Lilino Vaurasi and families

As we may not be able to thank you all individually, please accept this as a personal acknowledgement of our sincere appreciation.
First anniversary acknowledgment (13 February 2012)
---
From Rejieli Flexman in Sydney (11 November 2010)
Hare Mani, married to Sauhani (deceased), died during the week. Hare made history as the first Rotuman to represent Fiji in table tennis (ping pong) in two South Pacific Games, notably the games in Noumea.
Personal note from Alan Howard: I was very sad to hear about the death of Hare Mani. When I was on Rotuma doing research in 1960, Hare was a policeman stationed there. We were both members of the Ahau Sports Club, along with Paul Manueli (who was District Officer), A.M. Konrote (father of Jioje Konrote) and others. Table tennis was popular at the time and a table was set up at the government station. Several other clubs sprang up around the island and we held regular tournaments. Hare and Paul were terrific players and if I remember correctly our club was undefeated. Hare later went on to become Fiji national champion and as Rejilei mentioned above, went on to represent Fiji in the South Pacific Games. I much admired him, not only for his skill as at table tennis, but also because he was a true gentleman.
---
From Sanimeli Maraf in Rotuma (26 August 2010)
Last week we went to Malhaha for the funeral of Micah Fursetafu Penamena, son of Ritie and Kapani of Sauhata. Ritie's parents are Tokoara and Vai Penamena of Vagrua, Malaha ut Else`e ta. Micah was 25 years old; he died of a heart attack. He is survived by his wife, Junita and a son, Omara. They chartered an airplane and brought Micah's body to be buried in Malhaha cemetery. Micah taught visual arts at Malhaha High School and also to outsiders who were interested in painting. He also came to Noa`tau to the Fletcher Bible School and we all joined him there. We will miss him very much. He exhibited his work at the Fiji Art Council Centre Gallery. He could have gone much further.
From the airport a police car led the way through the high school ground, which was lined by high school students. The chartered airplane flew over twice while we were still at the cemetery. He was deserving of having so many people to farewell him.
---