This page is a guide to changes in the website by category and date, which enables visitors quickly to locate postings that have been made since their last visit.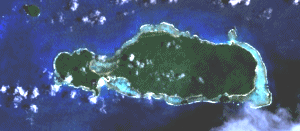 Rotuma from NASA Satellite
5 January, Rotuma spared by TC Mona
4 January, Fiji's Rotuma spared by unpredictable Cyclone Mona
1 December, Rotuma graduates encouraged to pursue higher education
14 November, Video clips showing varying aspects of life on Rotuma in 1990 have been uploaded to YouTube. A list of them, with links to the YouTube versions are on the video clips page.

---