This page is a guide to changes in the website by category and date, which enables visitors quickly to locate postings that have been made since their last visit.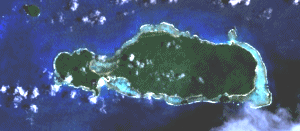 Rotuma from NASA Satellite
After careful consideration I have decided to make a change concerning the online English-Rotuman wordlist. Instead I have created a searchable pdf file of the wordlist that can be downloaded to your computer or tablet. I hope you find it a convenient way to help with translating from English to Rotuman and Rotuman to English. To try it out click here.
26 March, President pays courtesy call to Pope Francis
24 March, Pope Francis welcomes President of the Republic of Fiji Jioji Konousi Konrote at the Vatican (Photo)
8 March, Upgrade to Rotuma Airstrip in progress
3 March, Rotuma Airport Upgrade Barge Arrives
---