---
̱̱̱̱Save the date! The Rotuma Open Golf Tournament is scheduled to take place on Saturday, 05 October 2013, at Denarau Golf Course, Denarau Island, Fiji. See flyer
---
Noa'ia 'e mauri and greetings from beautiful British Columbia, Canada
The Hugag'esea club will be celebrating their 20th anniversary this Rotuma Day and we would like to invite all those who will be in the area or have wanted to visit Canada, to join us in this joyous occasion.
Twenty years ago, our parents and elders got together to form a group with the sole purpose to teach us, their children, the Rotuman. a culture and the importance of family.
Because of their love and commitment, we have benefited immensely and have been given the gift of what it means to be Rotuman. We are eternally grateful to them.
If you would like to join us in celebrating Rotuma Day please drop us a line at: hugagesea@gmail.com
We will be taking it back to where it all began, Nanaimo, BC at the Nanaimo Curling Club on Saturday, May 18th 2013.
For more information please contact us at the above email address. We look forward to seeing you there!
Hanisiof,

Tamara Aisake (Secretary of the Hugagesea Club)
---
From Agatha Ferei (12 November 2011)
Our learning centre, 'IPA edu-Innovative Services in Nasinu, Suva is currently assisting Radio Fiji One with their Rotuman Programme on the 2nd and 4th Mondays of the month.
We would like to attract more Rotumans of the younger generation to the programme and have made a few changes to the broadcast. One of the changes includes the use of both Rotuman and English languages, the sharing of news bulletins from Rotumans around the world, the use of email and phone contacts as well as the Radio Fiji One website for members to log in. We encourage members of the public to send in their comments, news, activities, dedications and any topical issues they would like us to consider for the programme. It's a 90 mins programme per recording
E-mail: aferei@gmail.com or ipa.eduservices@gmail.com or Tel: (679) 7751222 for further details
---
From Vilsoni Hereniko
It is now possible to stream The Land Has Eyes on the internet along with hundreds of other films. The film can be viewed on Jeannette's Hereniko's AsiaPacificFilms.com website.
---
George Wasile and his wife recently opened a stall (# 56) at the Southmall Market, which is next to the Suva Flea Market. They sell a range of local & original printed tee-shirts and
hand-painted sulus, as well as mats, contemporary headpieces, tefuis, etc. Check them out on facebook (Aitu Mua), for photos of clothing instore. [12/10]
---
Hatana Ink, owned and operated by Tiu Yee create
s T-shirt designs inspired by Rotuman and other Polynesian themes.

Visit their website at http://www.hatanaink.com/
We have a Rotuma design - it's simple for now it represents the creation of Rotuma and has a volcanic eruption behind Split Island.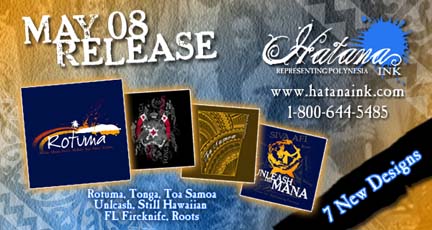 Hatana Ink donates 5% of all sales to help support and educate the children of Rotuma. [2/08]
---
Noa'ia 'e Mauri! My name is Henry Alfred, grandson of Jieni and Fagmaniua Fabiano from Maftoa, Itumuta and Faga and Matapule Alfred from Itumuta and Noatau. I grew up in New Zealand and migrated to Australia in 2003 with my family. I've worked in a well-known automotive industry in Auckland and Sydney for several years and decided to open my own business at the beginning of the year in automotive mechanical engineering. I graduated with a Certificate in Automotive Engineering at UNITEC Institute of Technology in Auckland, NZ and recently at TAFE-Sydney, Australia in automotive vehicle bodybuilding, fabrication and vehicle body designs. To the Sydney Rotuman community and friends requiring automotive repairs, please feel free to contact me.

Fai'ak'sia,
Henry
e-mail: autoesnz1@bigpond.com [06/06]

Automotive Engineering Specialists
Unit 7/12 Abbott Road
Seven Hills NSW 2147
Ph: (02) 96209982
Fax: (02) 80887334
Mob: 0408954344
ABN: 92130253076
Workshop licence no: 42780
RTA Authorise Safety Restraint Fitting Station-BUCKLE UP FRONT & BACK
The following websites have information on automotive repairs and road safety in NSW
| | |
| --- | --- |
| | |
| Fitting on a windscreen | First hotrod in shop |
---